Exploring Malaysia's beaten paths. The BMW X5 xDrive40e plug-in hybrid review!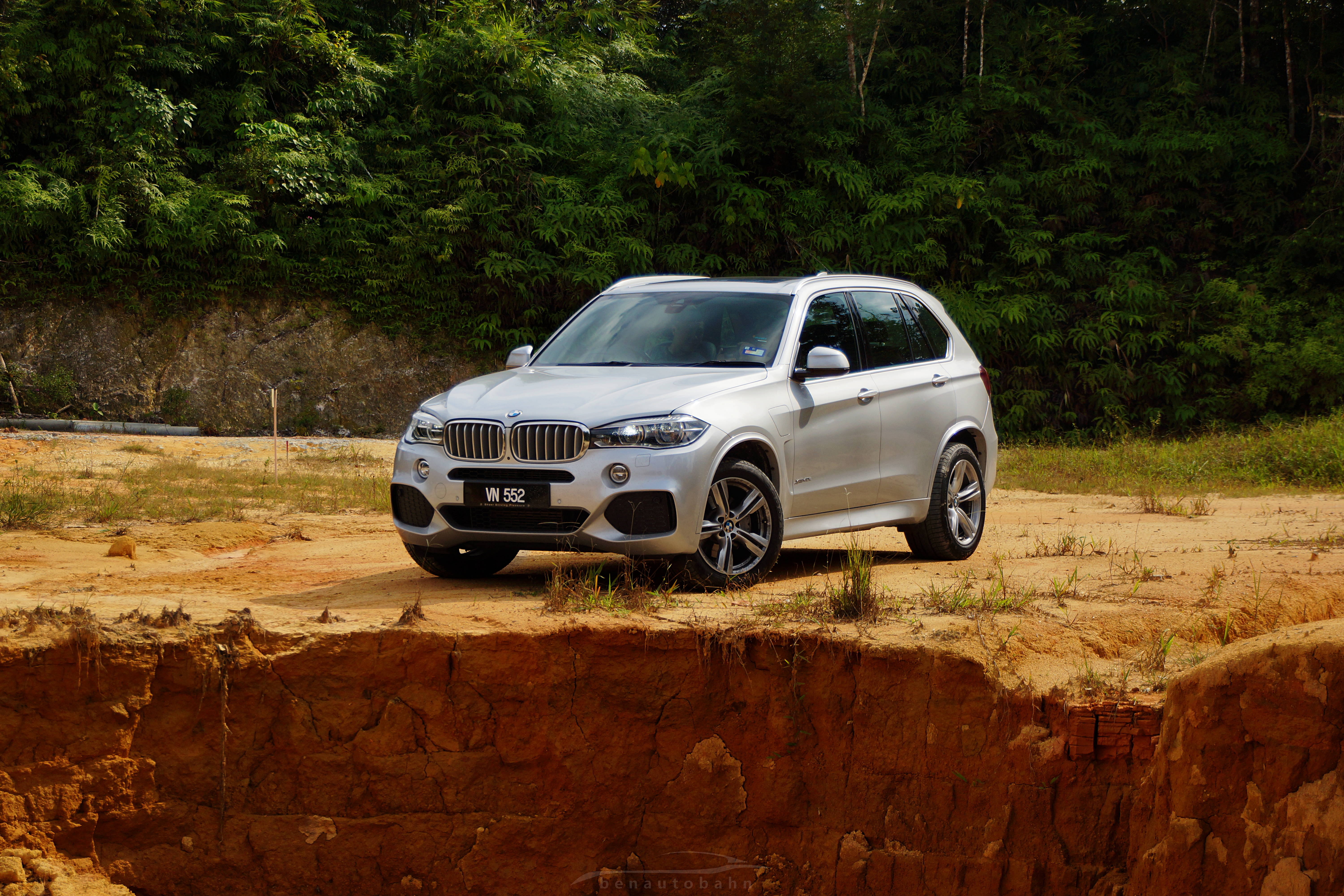 An environmentally friendly hybrid SUV seems like an oxymoron. The idea of adding heavy batteries to an already hefty SUV to make it more fuel efficient sounds counterproductive. And yet, many car manufacturers are producing hybrid variants of their models. Surely these big manufacturers know what they are doing, and I got to have my first taste in a plug-in hybrid vehicle in the BMW X5 xDrive40e M Sport.
The car's name sure is a handful, but thankfully there was good restraint in badge placement all around the car. Aside from the eDrive badge at the rear and 40e nomenclature on each of the front side doors, the hybrid X5 looks just like any other conventional petrol or diesel powered X5.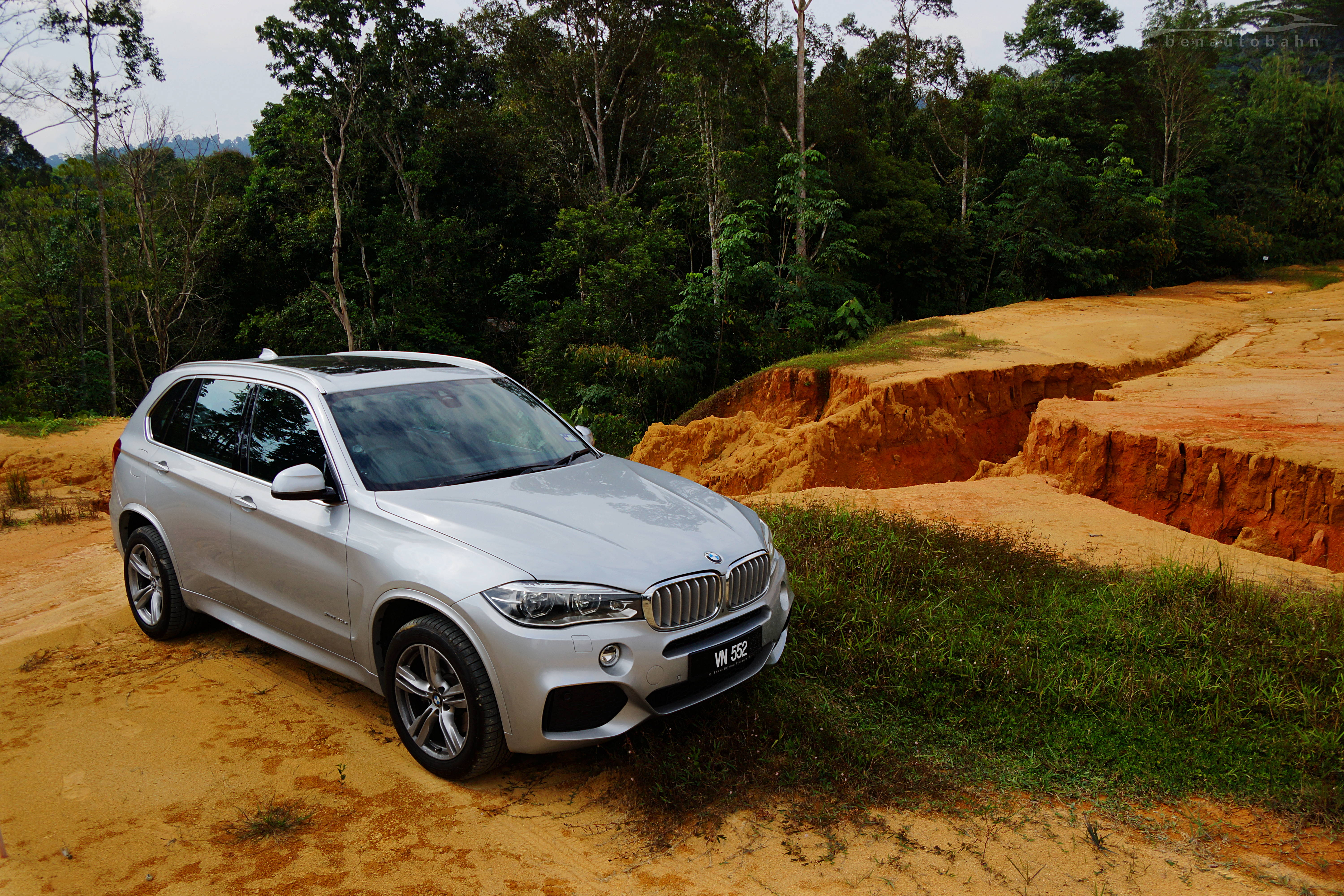 First revealed at the 2013 Frankfurt Motor Show, the third generation (F15) BMW X5 still looks very fresh today. This generation may have been nearly 5 years old, but the xDrive40e plug-in hybrid variant was introduced globally around two years ago and launched in Malaysia just last year. It's also interesting to note that the xDrive40e also marks BMW's first production plug-in hybrid vehicle, with direct technology application from what BMW has learned from their i3 and i8 models.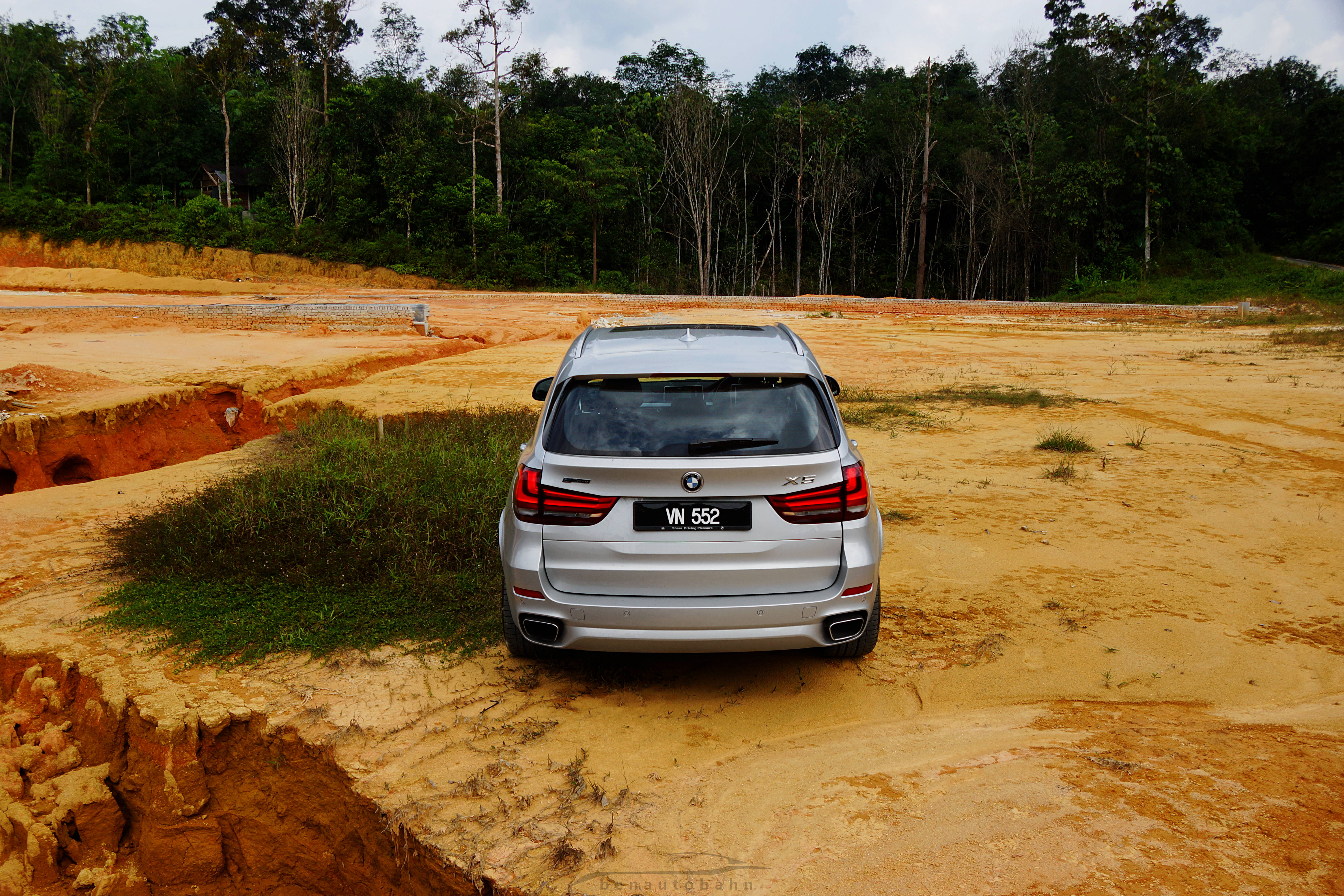 The X5 especially in this M Sport guise, remains one of the more muscular-looking SUV on sale today. Combined with the large kidney grille and signature LED daytime-running lights, the X5 has that aggressive looks and stance that the Mercedes GLE or the Audi Q7 simply do not possess. The Porsche Cayenne does come close, but the X5 still takes the cake for sheer road presence.
Take a seat inside the X5 for the first time and the first thing you would notice is that you sit high. As someone who is used to driving Japanese crossovers of a few makes, the driving position of the X5 felt even higher still. Sure, you could set the electronically adjustable seat lower for a more snug feel, but you will want to sit high should you want to take full advantage of the higher, commanding driving position.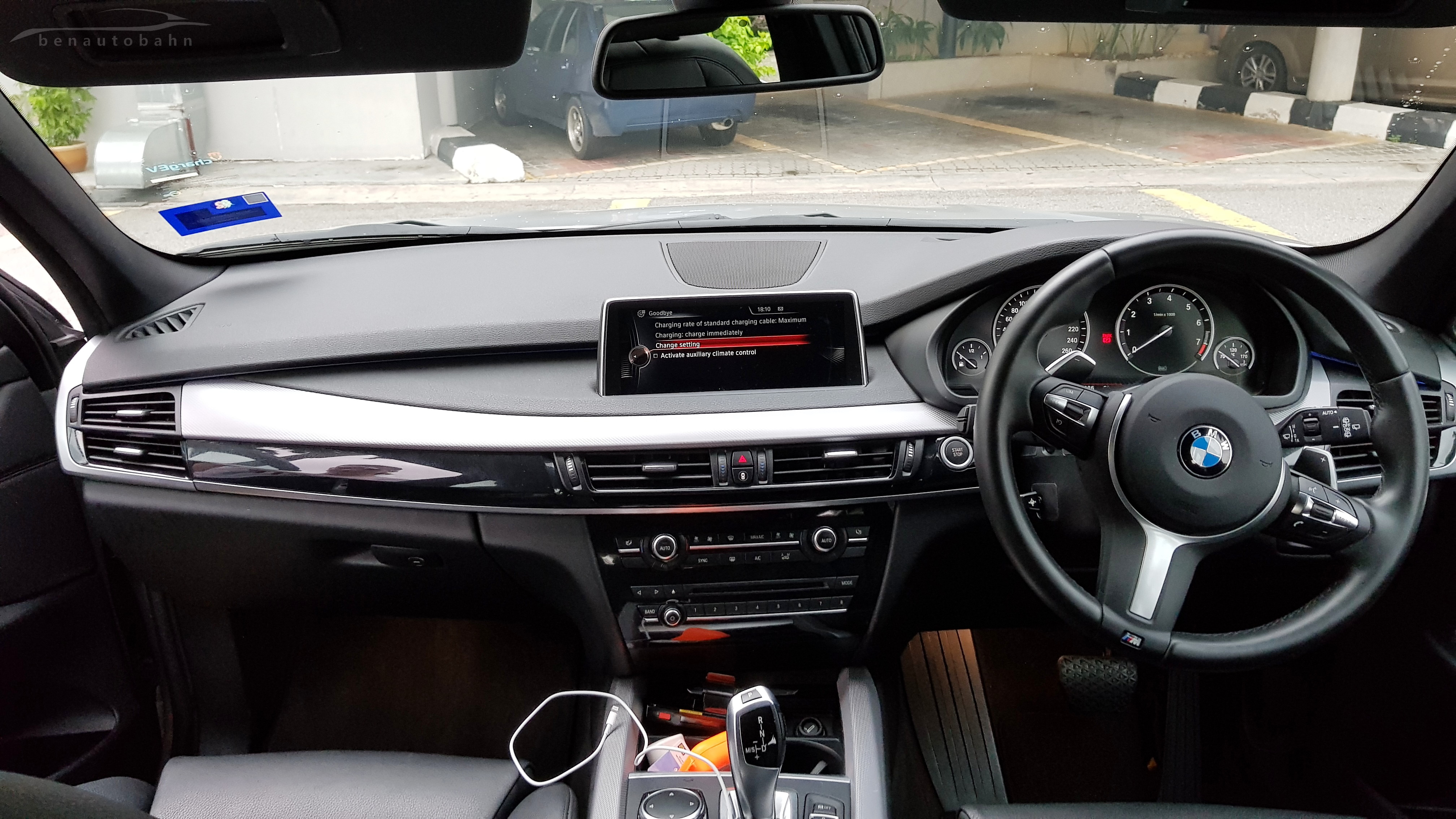 BMW Malaysia's decision to include the M Sport variant not only meant that we get the more sporty bodykit and rims, but also the lovely M Sport steering wheel you can find in proper M Performance models like the M4. The steering wheel is slightly cushioned, not too thick, and simply a joy to handle. The rest of the interior however, would leave you less impressed.
With this being a generation behind as compared to the new 5 Series and 7 Series, the interior of the X5 is starting to show its age. Nevertheless, BMW's function over form interior design language is as apparent as always. While it won't wow you or your passengers, the learning curve is minimal in terms of getting to know where all the controls and functions lies. Within just a couple days, I was accustomed and familiar with the dashboard's layout and controls.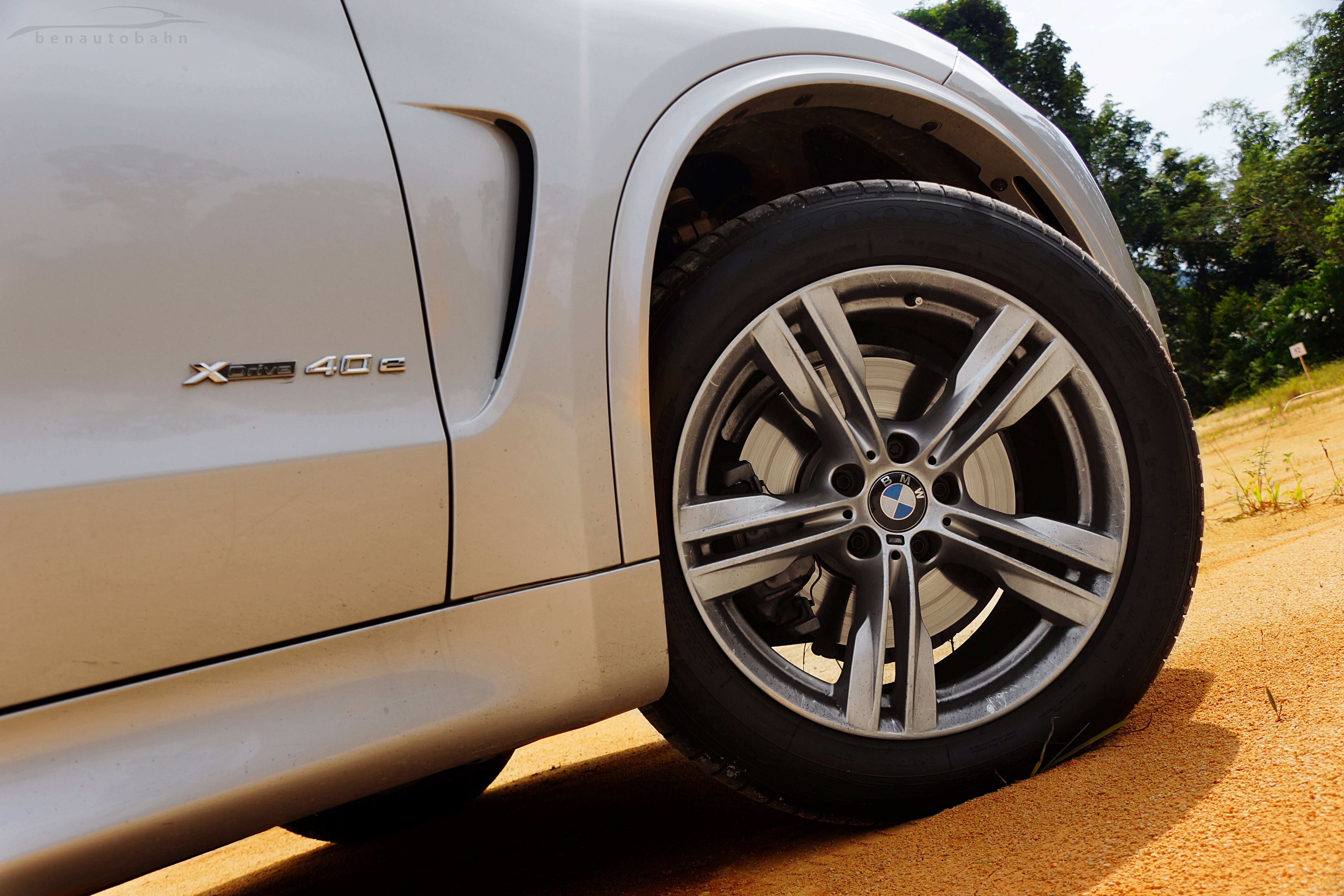 The car also comes with what BMW calls "Sports seats". While they look good, the seats doesn't have any form of lumbar adjustments and generally lacks support. Even my friend's 320i has better front seats which you could adjust the side bolsters. I can live without the seats' memory function, and would even trade electronic adjustments in place of a more supportive seat.
As I head towards the long straights towards the airport to pick up a couple of friends, I had the chance to properly experience the full potency of the X5's unique hybrid powertrain. The car's turbocharged inline four, 2 liter engine produces 245hp and 350Nm of torque, but combined power with the electric motor will get you a total system output of around 308hp and 450Nm of torque.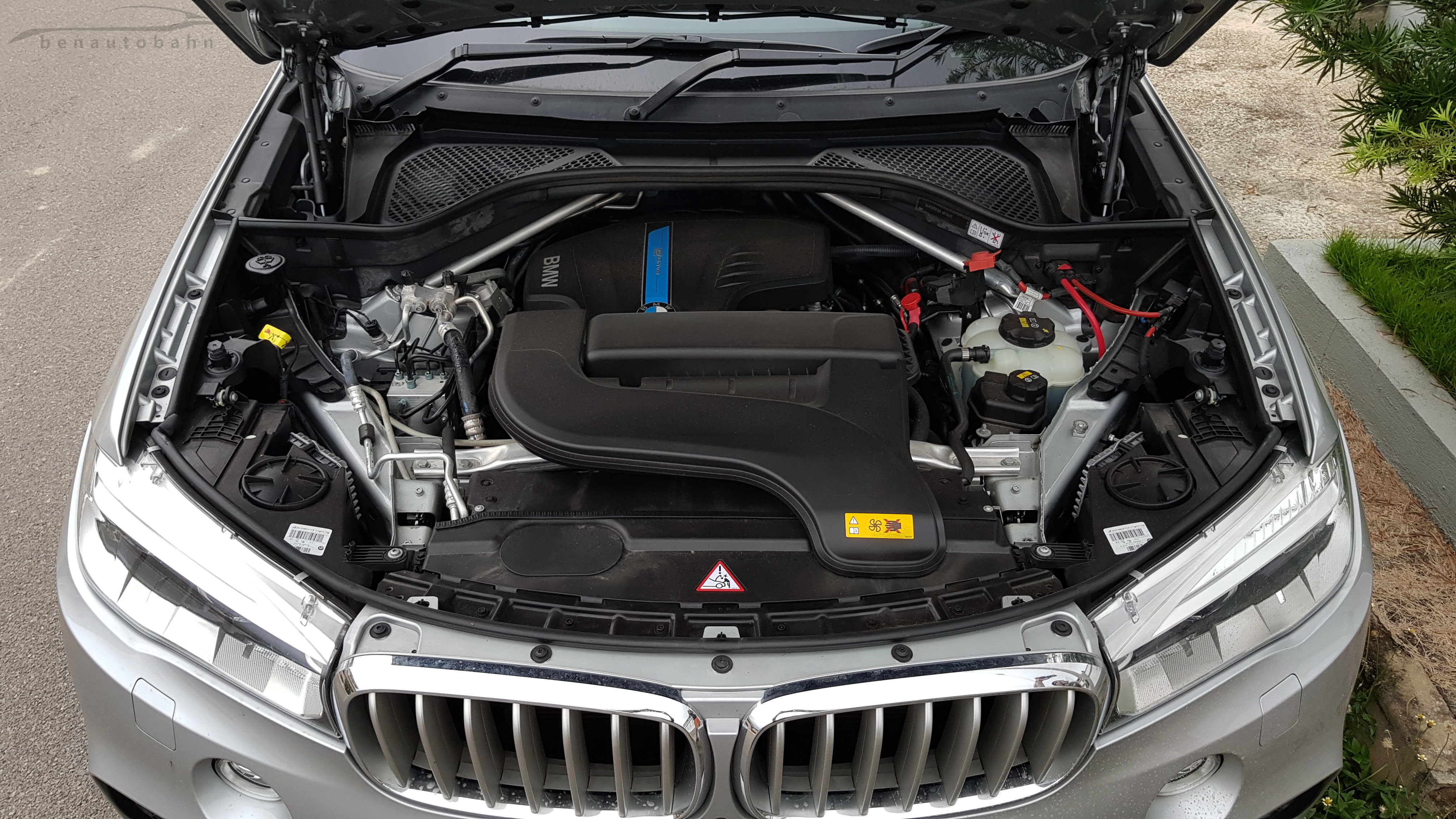 Given sufficient charge left in the battery and drive mode set in Sport mode, acceleration from a standstill provides you the pull that mimics a vehicle with a much higher capacity engine. The turbo lag that plagues most if not all turbocharged cars is completely compensated by the electric power.
There's virtually no delay in power delivery and there's no reason to doubt the official 0-100 km/h time of 6.8 seconds. Overtaking at speed is also relatively effortless, because the battery power will assist alongside the combustion engine to minimize any delay in power delivery that may have been caused through gear changes and/or turbo lag.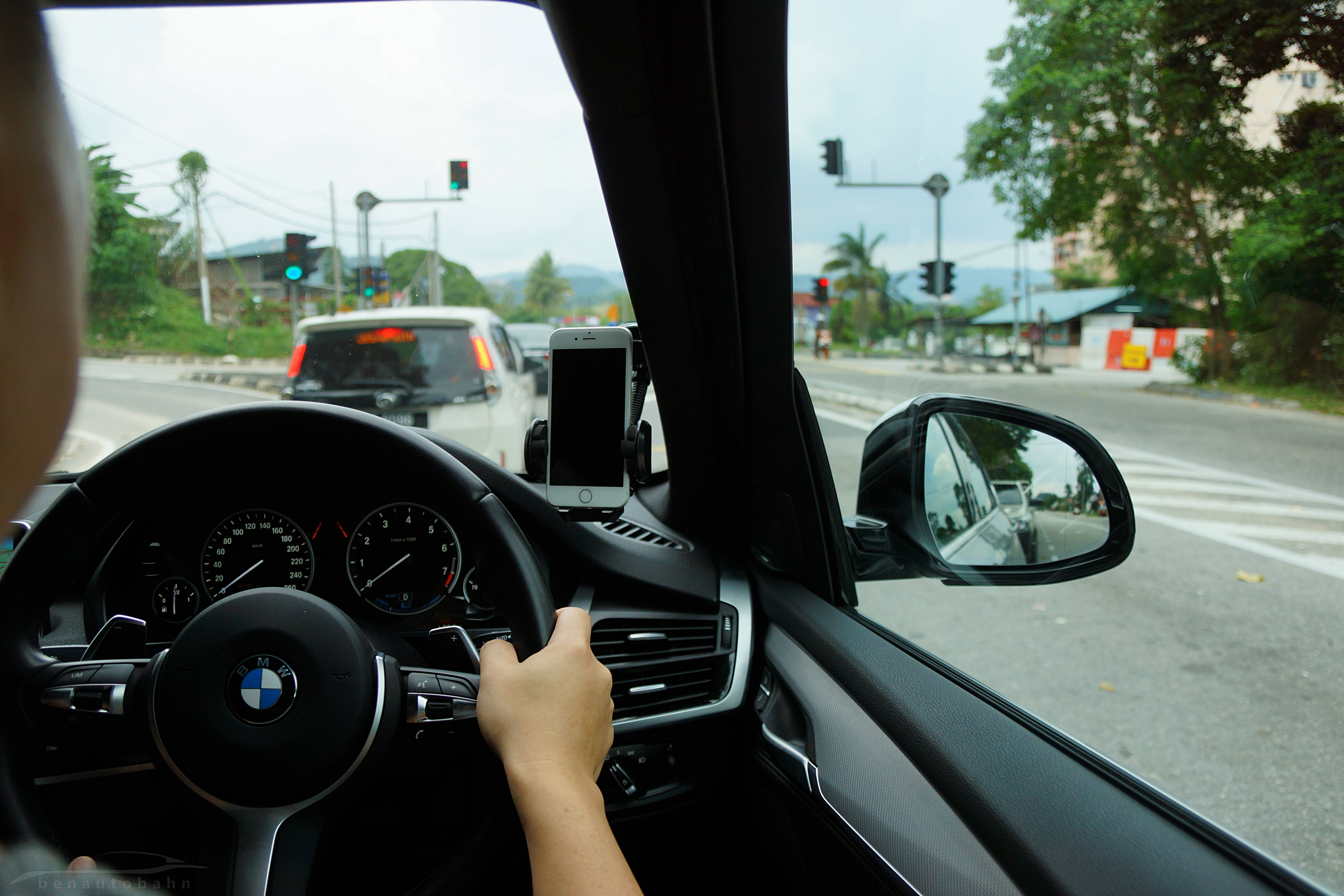 That all sounds great, but drive the X5 xDrive 40e in any way enthusiastically and you could literally see the battery power percentage dip before your eyes. If your drives mostly involves long distances like me, expect to have most of your journey powered solely by the tiny turbocharged, four cylinder engine tugging along a couple hundred kilos worth of batteries.
To be honest, 245hp and 350Nm from the petrol engine alone is still more than sufficient to propel 2.3 tons worth of Bavarian metal. Carry five full-sized adults to bring the car closer to 3 tons however, and you will begin to feel the weight under acceleration.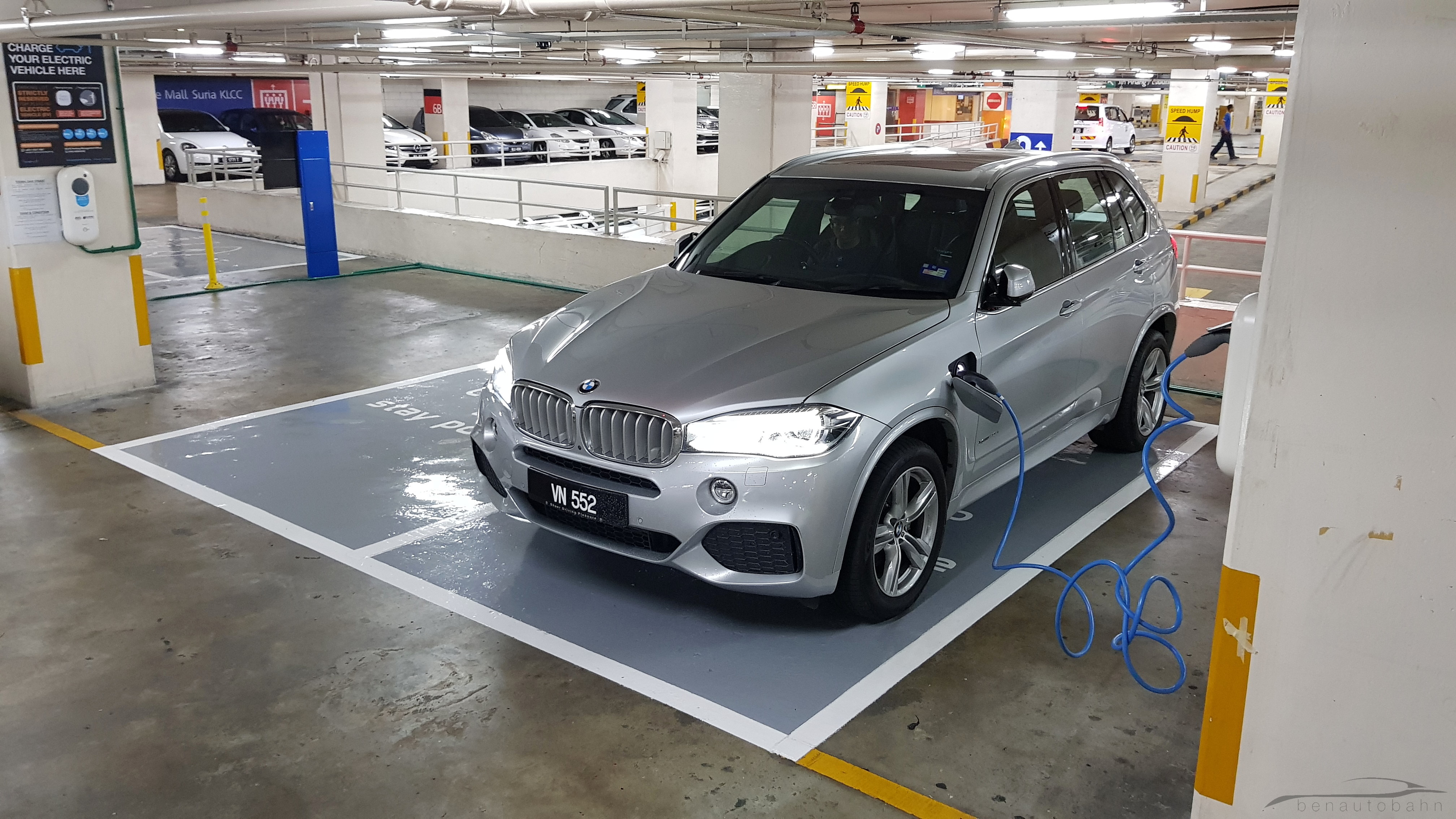 Charging the X5 plug-in hybrid from your standard house outlet would take between 4 to 5 hours from empty, while charging from public fast chargers would shorten that to around 2 to 3 hours. You can monitor your car's state of charge from the BMW Connected app on your smartphone. One could even switch on the climate control, lock/unlock the car, locate your car and perform a few other functions just from the app alone.
On a full charge, BMW claims an electric-only driving distance of 30 kilometers. Realistically speaking, you should expect more like 20km or maybe even 25km in ideal conditions. With the X5 xDrive40e being a relatively early player in the plug-in hybrid market, its battery technology is not as impressive as those from newer competitors such as the Volvo XC90 T8 plug-in hybrid which has a higher power density battery and has a claimed electric range of around 40 kilometers.
On the get go, the car starts off with the eDrive setting in Auto in which the car decides on its own when to propel with just electric power and when to kick in the petrol engine. Drive around at slow to moderate speed and you will find the car shutting off the engine and moving with just electric power alone for example. You would struggle to tell if the engine has kicked in or shut off which is very impressive, I often find myself unaware whether the engine is running or not unless I check the rpm meter.
Given enough juice left in the battery, you could also set the car to MAX eDrive mode which forces the car to run on electric power alone and only kicking in the combustion engine when the battery is almost depleted. Another setting is the SAVE eDrive mode where the car would save up its electric power for later use.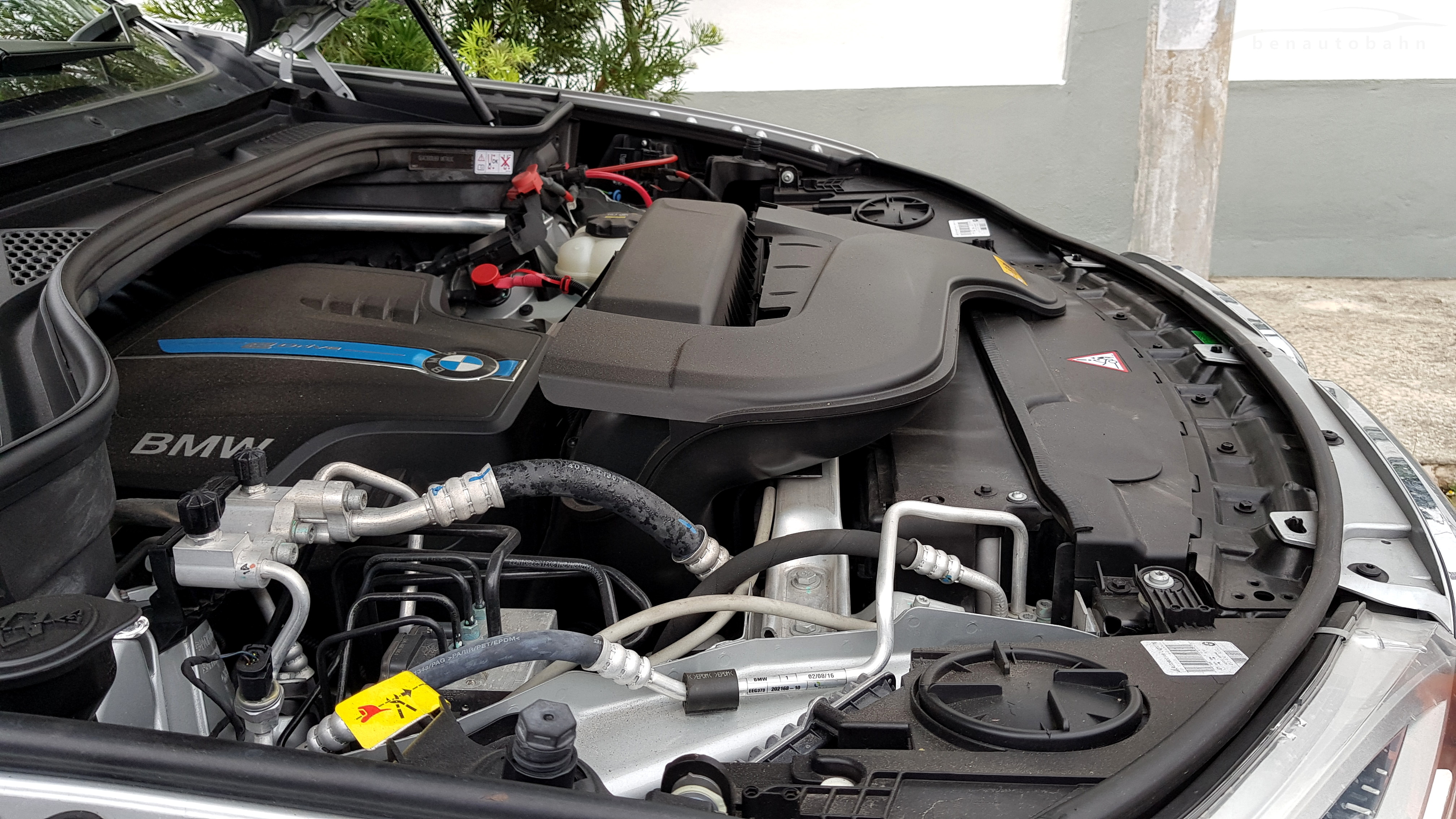 Technically the car could recharge its battery by itself from empty through regenerative braking and coasting, but only up to 50% however (51% in my case), to encourage owners to charge their cars at an outlet to fully benefit from its plug-in hybrid potential. One trick is of course to never get your power percentage to go below 50% and then you could theoretically charge it up to 100% just by driving alone (I didn't manage to attempt this). Interestingly enough, the BMW 330e I tested on a later date allowed me to charge the car back up to well above 50% (nearly 90% in my case) from driving alone.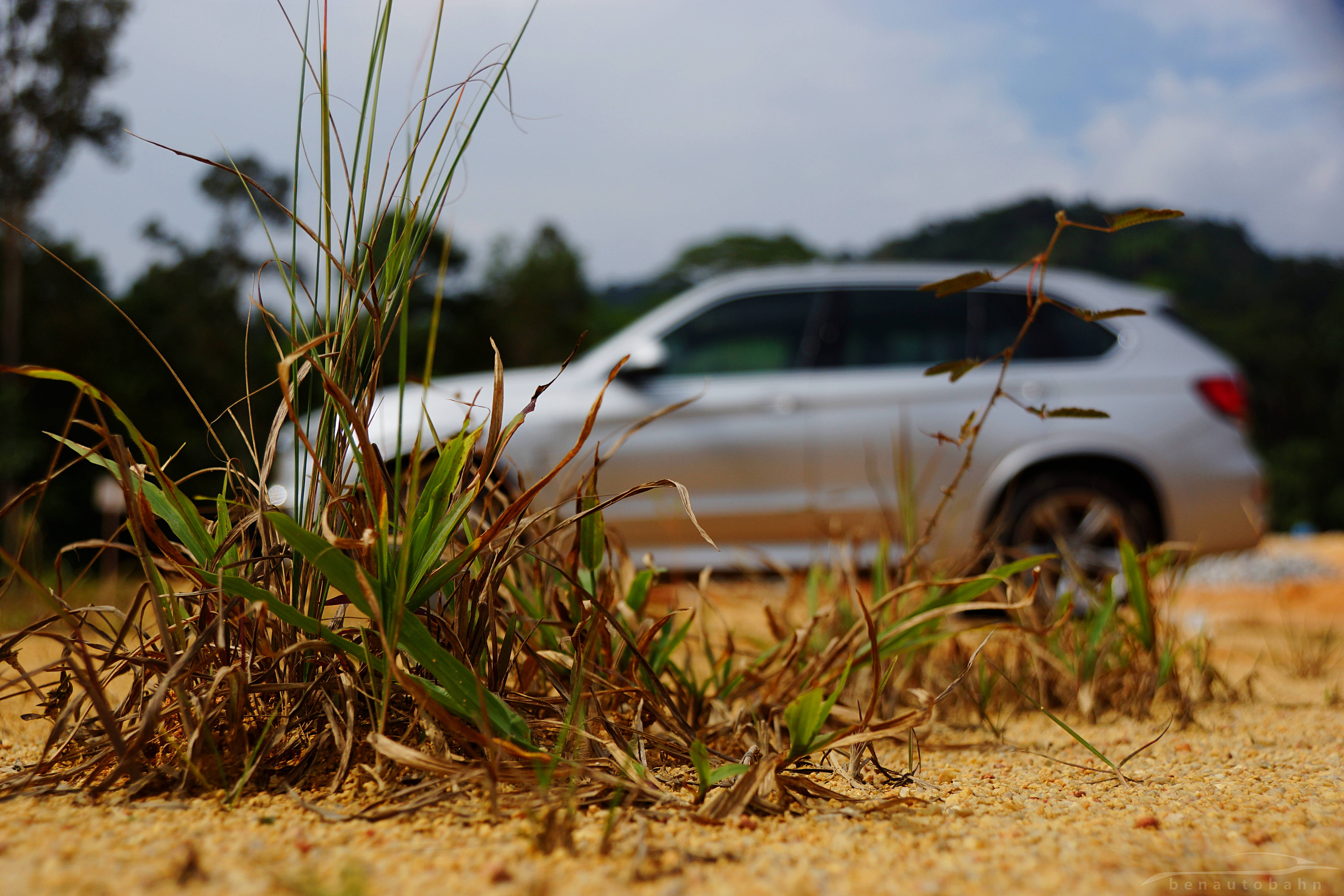 Haven't been back there since decades ago, we head towards my friend's hometown and visited the Sungai Gabai waterfall he used to frequent as a kid. As expected, the route was mostly "kampung roads" with charming little towns in between. Development was limited and while many parts of the road were pretty well paved, the rest still felt like it was untouched and exactly how my friend remembered it as a kid. He was literally driving through memory lane.
The environment may have barely changed, but cars have undoubtedly grew a lot in size since. The X5 is still relatively maneuverable in these tight conditions, but it is in these places where the X5's road presence was most pronounced. The car's suspension also handled the uneven country road surface pretty well.
Set the adaptive dampers into Comfort mode and the car soaks everything up, but I find its rebound to be a slight too many. Sport mode tightens things up a touch but not significantly. Expect the newer and more advanced Audi Q7 to ride better overall.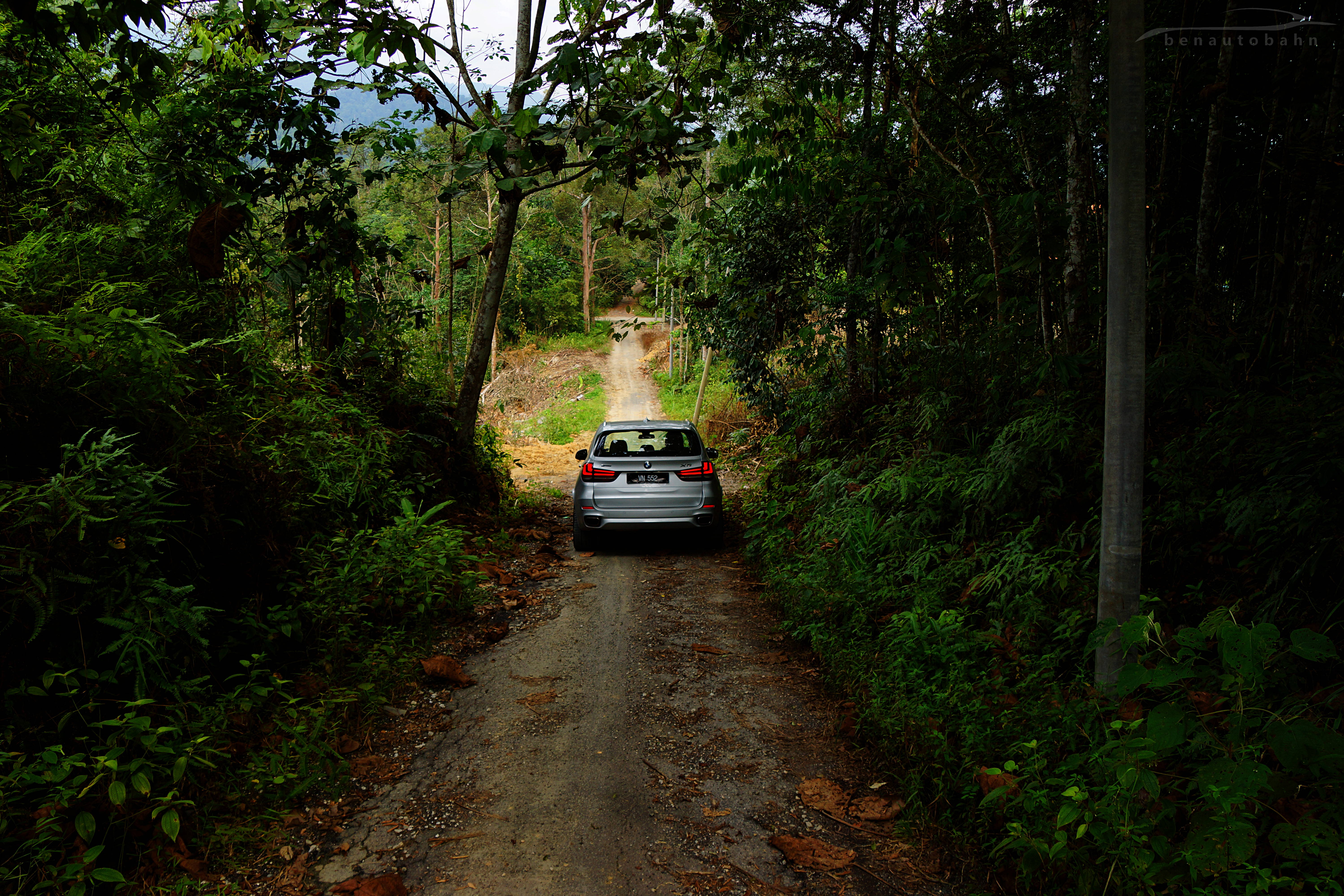 This hybrid sport utility vehicle, (or sports activity vehicle, SAV as BMW calls it) is born for the urban jungle. And yet, the X5 xDrive 40e looks just at home off-road, and in an actual jungle. Like a lumberjack dressed in a suit and tie, the hybrid X5 looks so wrong yet so right in these environment simply because of its SUV body-style.
Judge for yourself from the photos you see here shot by a friend and I. The car's Glacier Silver paint blends well with the urban jungle, but a pleasant contrast around these beaten paths. A photographer's dream.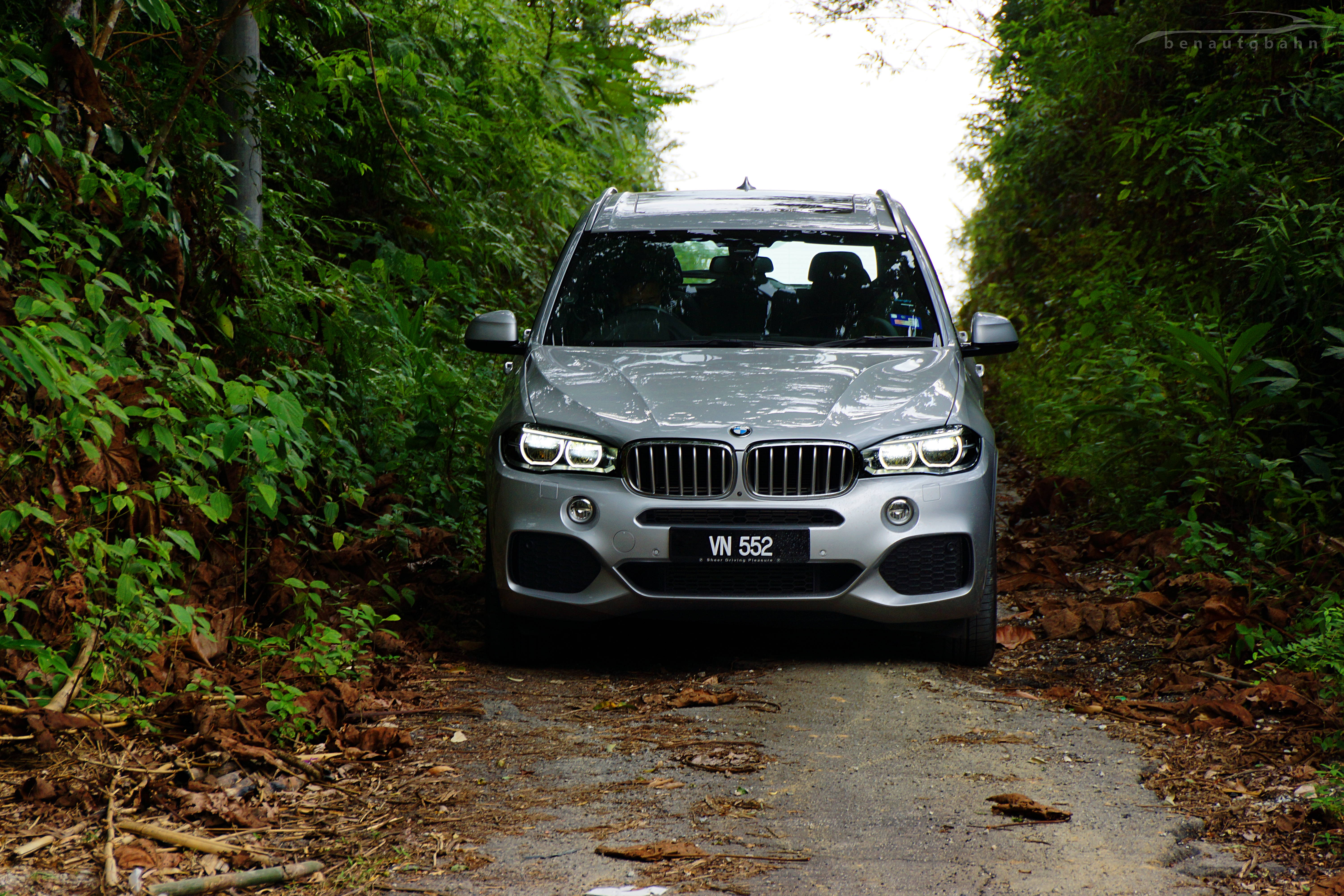 We took the winding road back home, gripping the awesome M Sport steering wheel as we carve through corners and bends, with the punchy engine proving swift progress of pace. The M Sport steering wheel found in M Performance cars might have raised my expectation a bit too high but the X5 is no sports car. Steering is light and direct as expected, perhaps a touch more weight in Sport mode but don't expect engagement here.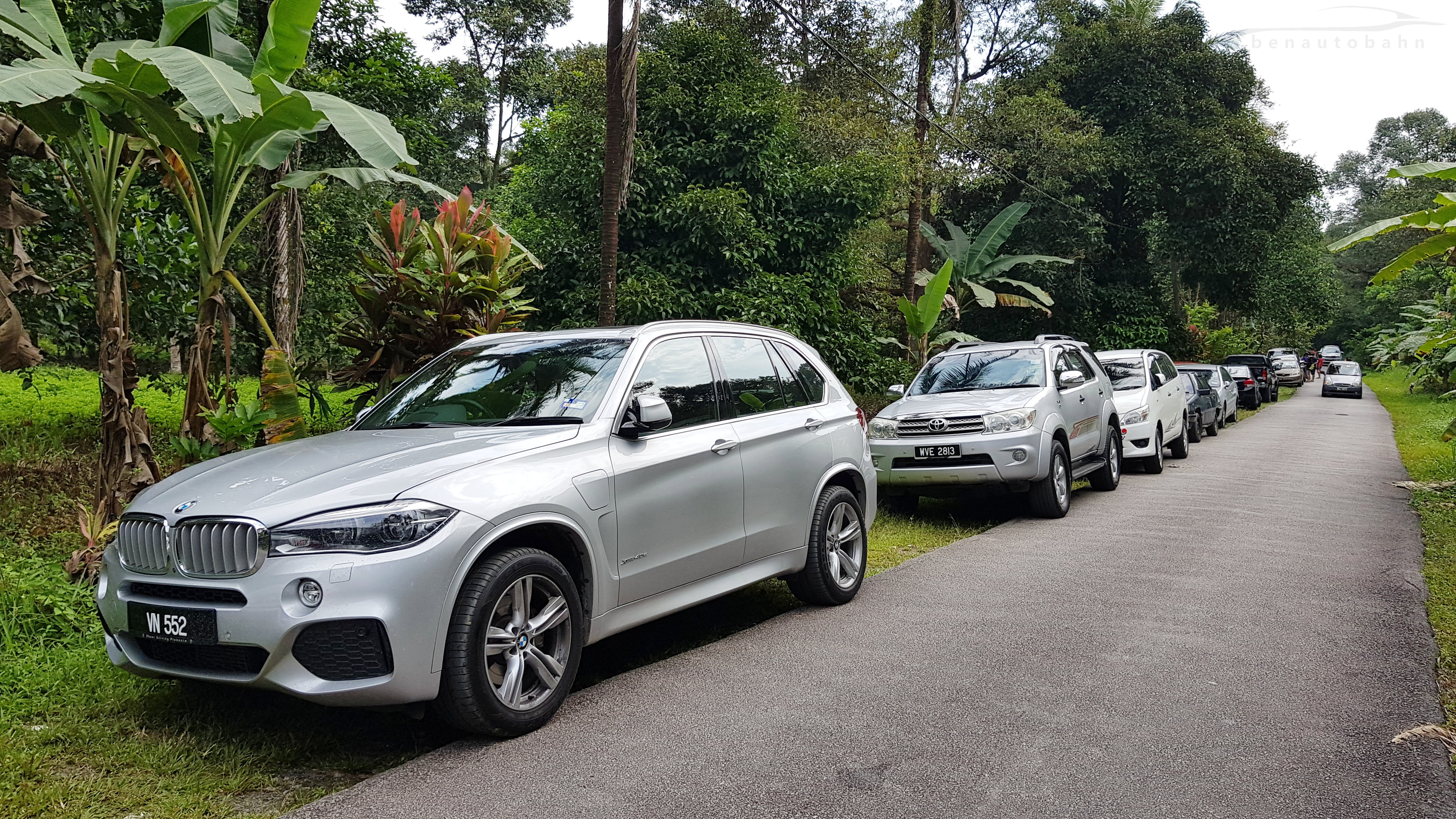 While the steering don't communicate every single information from the tarmac, it is still a BMW and the all-round solidity and stability is there. Drive enthusiastically and you can at least trust the car's xDrive and wide tires to keep you out of trouble. It may weigh 2.3 tons but honestly it hides its heft pretty well if you drive it sanely. Needless to say, high speed stability is excellent and even wind noise is acceptable at high speeds.
The X5 is perfect for crossing continents effortlessly. I took the car to my grandparent's home in Bahau on a different day with a total of five adults on board and none were complaining about the lack of space. Rear legroom is aplenty even for people who are almost 1.9 meters tall, and the panoramic roof further adds to the overall spacious feel of the car.
Our particular test car came with the black leather but one could also choose it in dark brown "Terra" leather for the interior which was featured during the launch. The brown leather would further increase the airiness of the cabin and provides a welcome contrast in color, so that would be my choice should I buy one.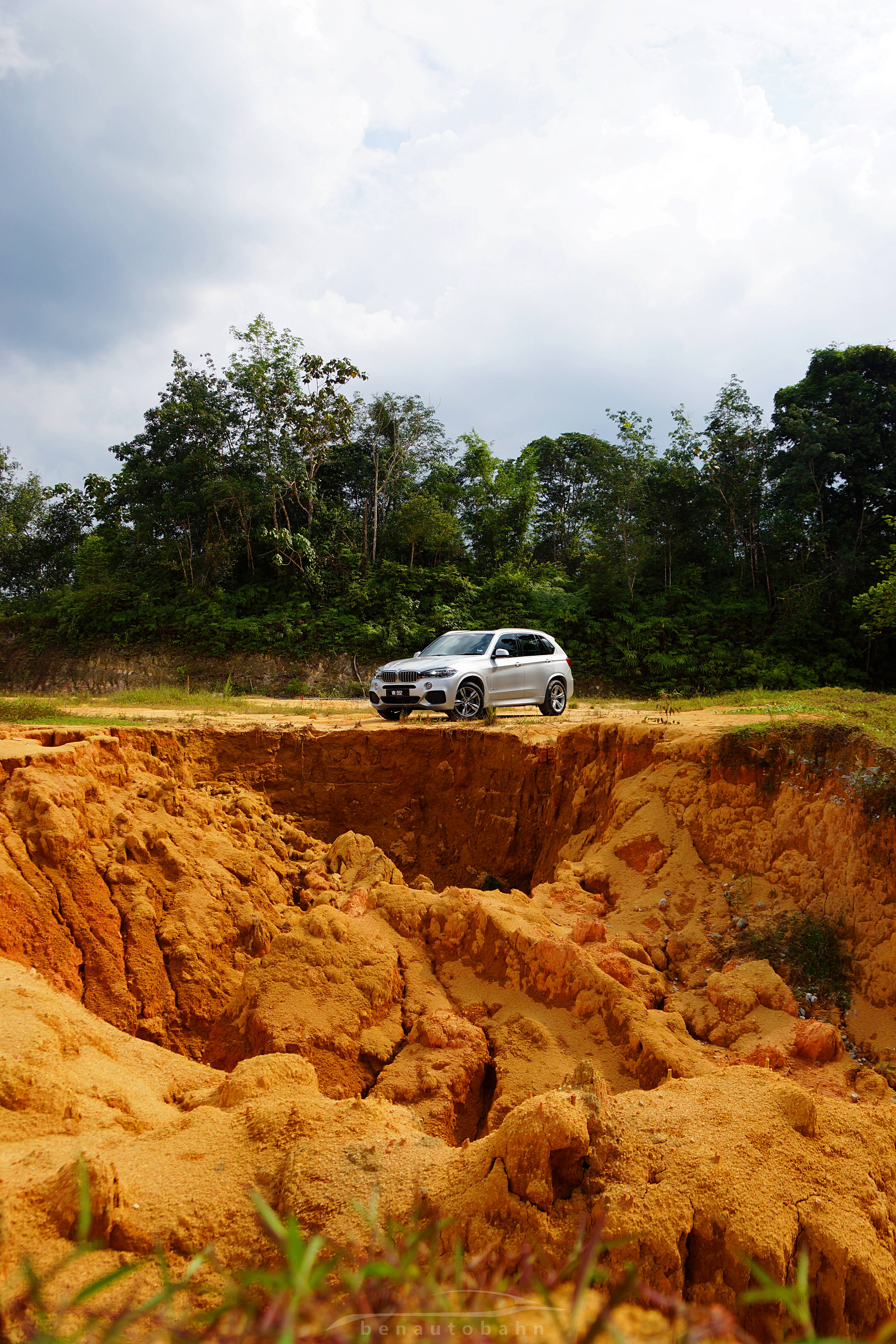 As my week with the X5 xDrive40e approaches its end, I find that there's little to fault about the car, especially at its current competitive price tag unique to locally assembled hybrid vehicles. Sure, you could fork out around RM15k more for the seven seater Volvo XC90 T8 which is a more well-rounded car inside out, but the reality is, most people would see it as paying extra to not have the BMW badge.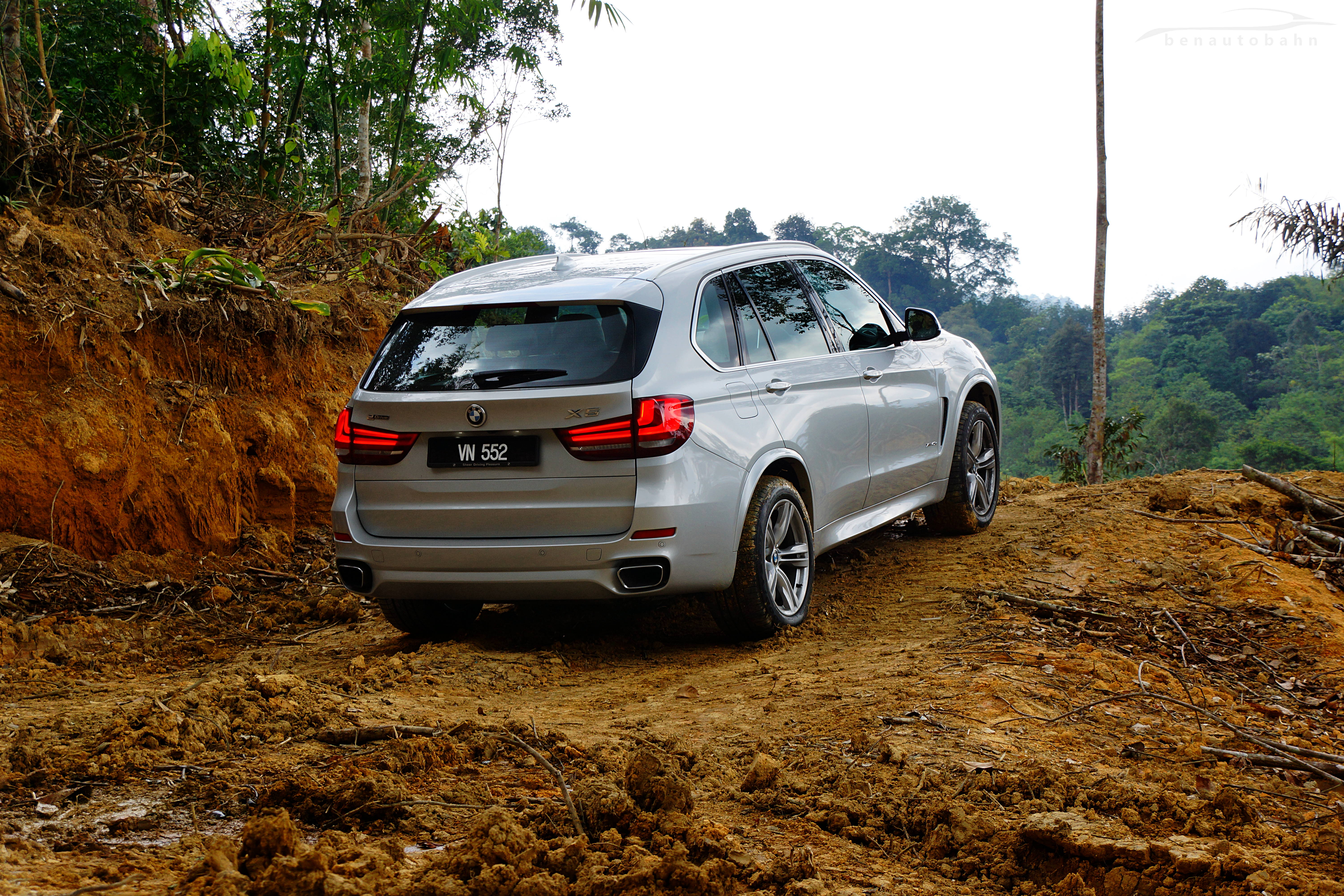 There's no denying the X5's road presence especially when cars simply move out of your way on highways, while the larger Swedish struggles to even get your attention. If that sounds like your kind of car, then the BMW X5 xDrive40e ticks all of your boxes.