Undercover Swedish Power. The Volvo V40 T5 Polestar review!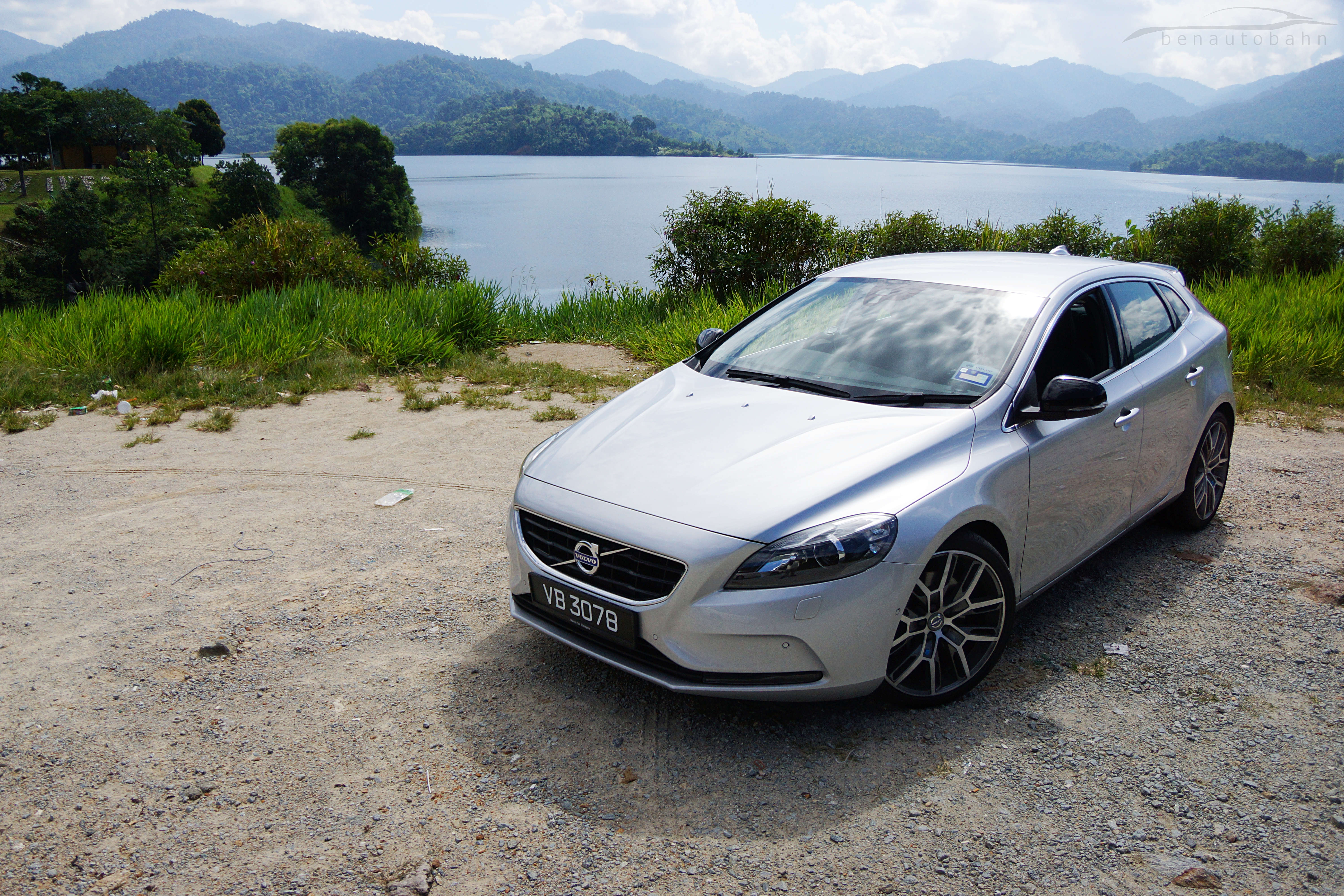 Look at Volvo's latest model range today. Their XC90, S90, V90, and the upcoming new XC60. The predecessors of those Volvos were perhaps known for their class-leading safety but nothing else really stood out. Just a model generation later, Volvo not only managed to maintain its pole position in safety, but arguably leading their respective segment in both exterior and interior design as well.
You might say that Volvo seem to be doing everything right this time around and you would be absolutely correct. Give it a second thought however, and one might also feel that something is still missing in Volvo cars. While I would happily recommend a Volvo to anyone looking for a new car, Volvo cars still don't pop into mind when you talk about fun. Just to be fair, fun is an image most manufacturers are still struggling to achieve. And here is where Volvo brings Polestar into the equation in the hopes to change all that…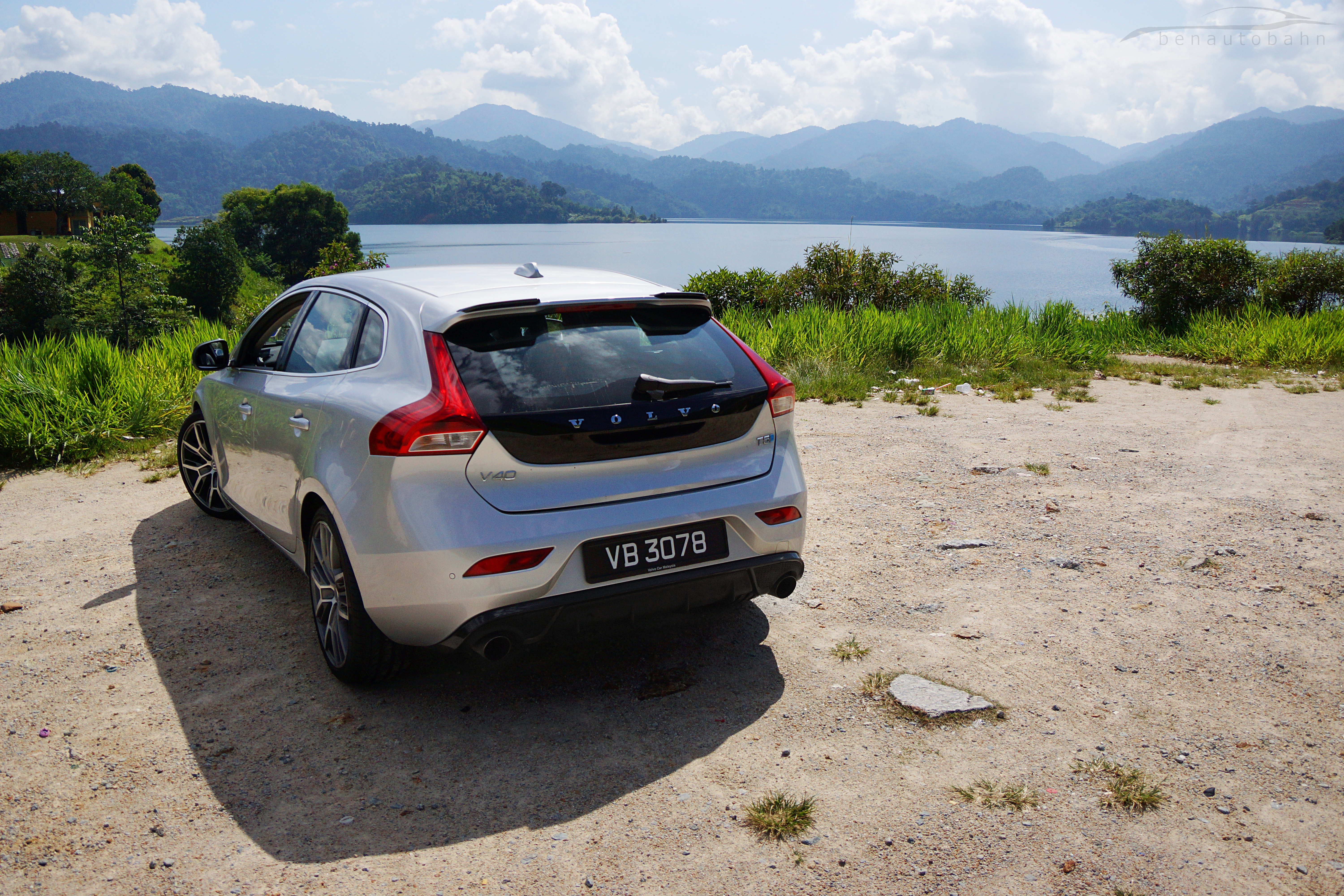 Polestar's history with Volvo began in 1996 when they raced the Volvo 860 at the birth of the Swedish Touring Car Championship. Ever since that day, Polestar have been racing a variety of Volvo models, not to mention working ever closer with Volvo themselves and in 2009, Polestar was appointed as Volvo's official performance partner. In 2015, Polestar is fully owned by Volvo and is now Volvo's official performance brand. Think Mercedes-AMG and BMW M division.
When Polestar became Volvo's official partner in 2009, they introduced the Polestar Performance Optimisation for Volvo road cars where Volvo owners could upgrade their cars with a variety of mechanical and visual changes. Just like the name suggests, these upgrades optimises your Volvo that enhances your Volvo's sportiness but nothing too over-the-top.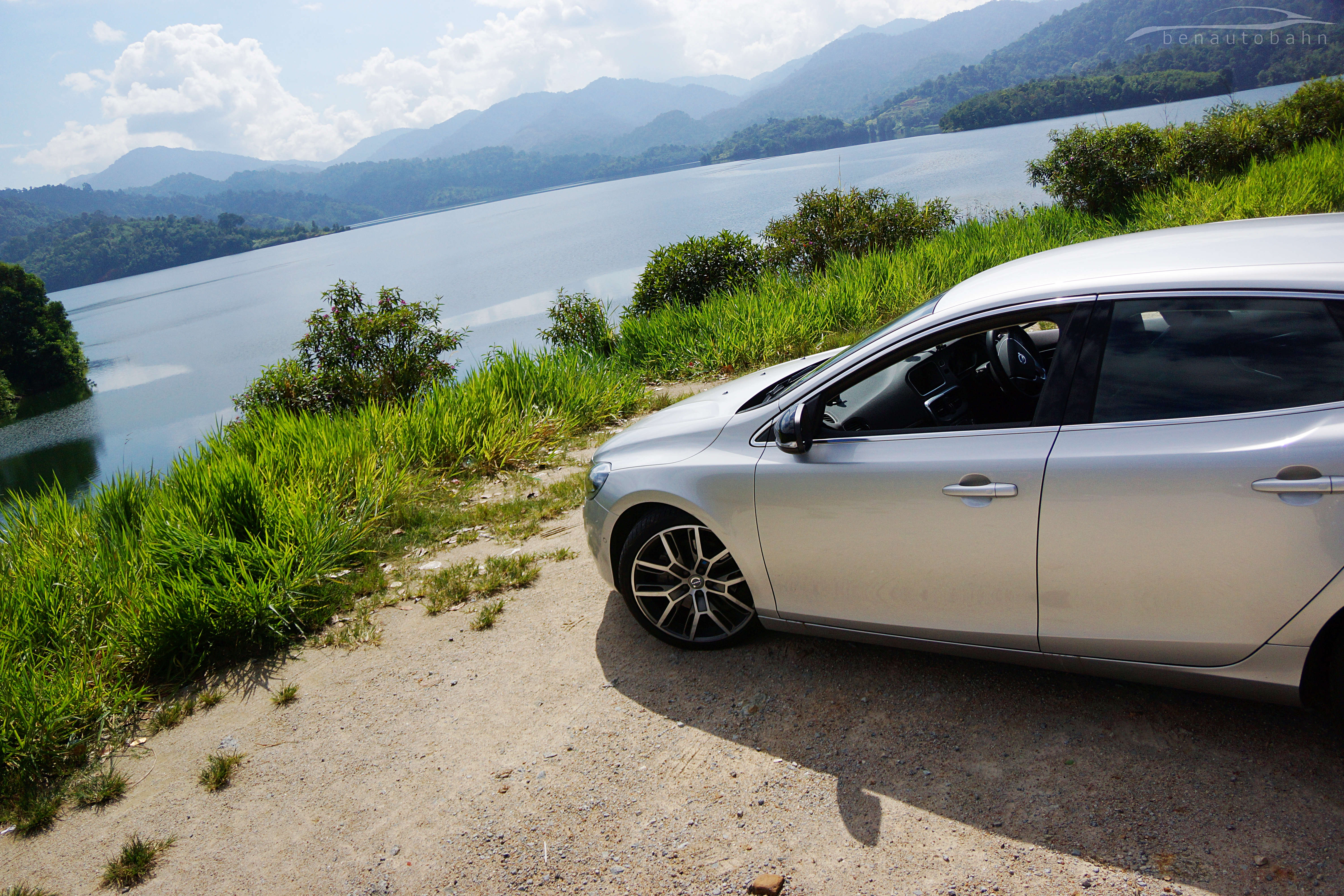 The Volvo V40 T5 we tested here came fitted with the complete Polestar Performance Optimisation package. The full package consist of:
Optimisation (8hp & 50Nm torque increase) – RM5665
Chassis (Polestar shock absorbers & coils springs) – RM14,538
Intake & Exhaust (Polestar stainless steel exhaust, rear diffuser, sports air filter & air box lid) – RM13,778
Wheels (19 inch lightweight Polestar rims wrapped in Pirelli P Zero tires) – RM21,079
Interior & Exterior (Rear spoiler, Polestar door sills plate, gloss black door mirrors, sports pedals, & Polestar gear knob) -RM8735
Fitting the whole package will set you back RM59,999 which is a few grand less when compared to fitting each of them individually. Of course you could also choose to just purchase selected parts from the package should you desire.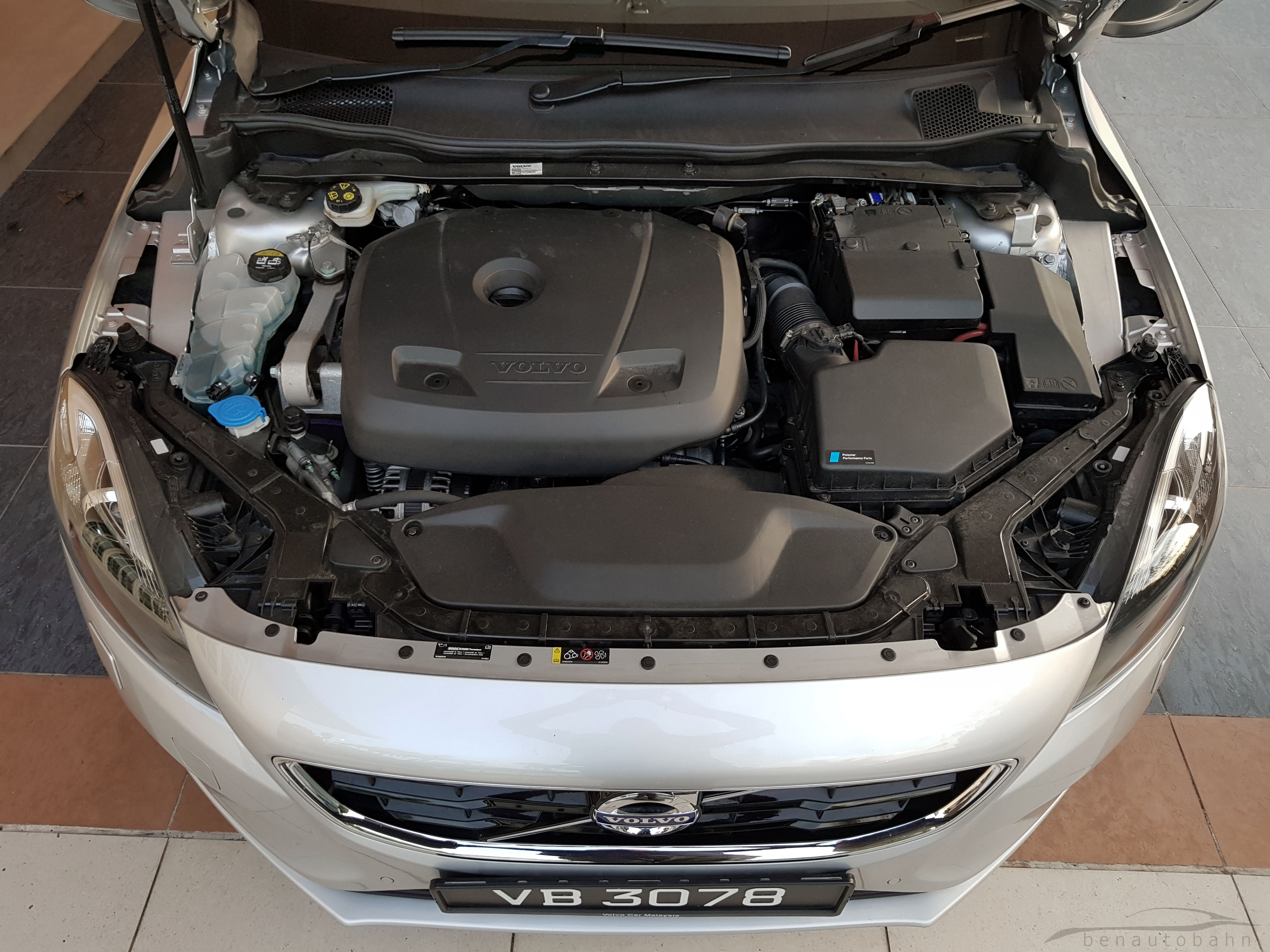 The standard V40 T5 is powered by Volvo's Drive-E 2.0 litre, 4-cylinder turbocharged engine which produces an ample 245hp and 350Nm of torque. Polestar's optimisation upgrade brings that up to 253hp and a whooping 400Nm of torque, all while not affecting the fuel consumption or the warranty. While the horsepower hike seems insignificant, it is the torque increase which makes all the difference but more on that later.
Polestar is still a Swedish company like Volvo, so don't expect aggressive, in-your-face styling upgrades that its rivals offers. As a matter of fact, besides the larger rims and tiny twin spoilers and even tinier Polestar badges, there's no way of telling that your Volvo has gone through the Polestar treatment. With more power than your neighbour's Golf GTI, one could almost call the V40 a sleeper hot hatch.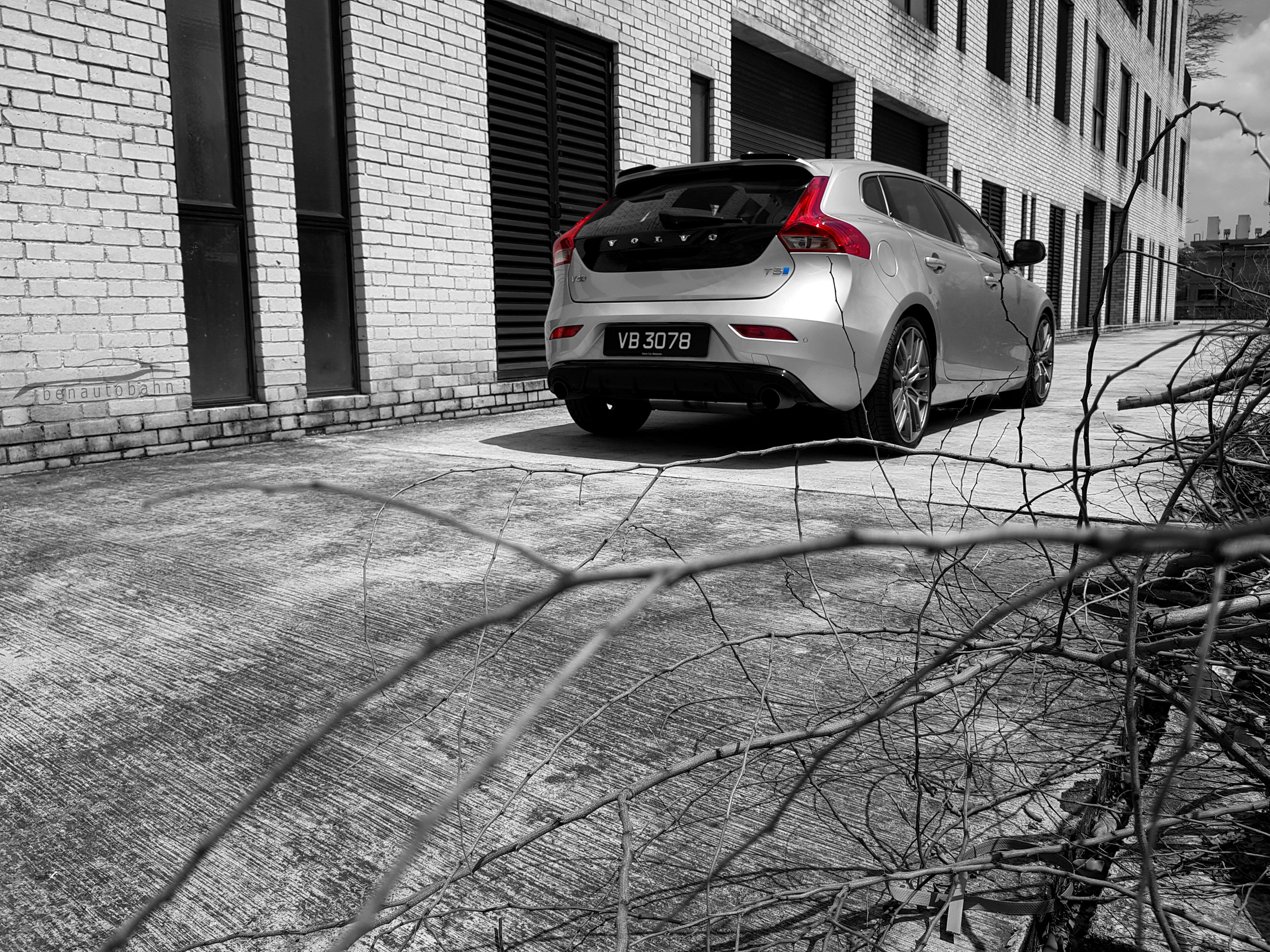 Despite the lack of significant visual upgrades, there's no denying that the V40 is still a great looking hatchback even in this pre-facelift guise without the "Thor's Hammer" headlights. The V40's distinctively stylish rear and pointy front-end may not make it the most practical in its class, but it sure turns more heads than a Golf or a Focus while not being offensive about it.
Enter the cabin however, and you can tell that this car has been around for 5 years. So far only the upcoming XC60, XC90 and S90/V90 has Volvo's latest exterior and interior design language which means the rest (current XC60, S60, V60) including the V40 still soldier on with the older generation interior. Despite being a generation old, the "waterfall" dashboard design is still one of the most distinctive in its class and build quality remains very good. Soft-touch materials are used liberally throughout the interior, and the electronically-adjustable seats with manual lumbar adjustments are extremely supportive and comfortable.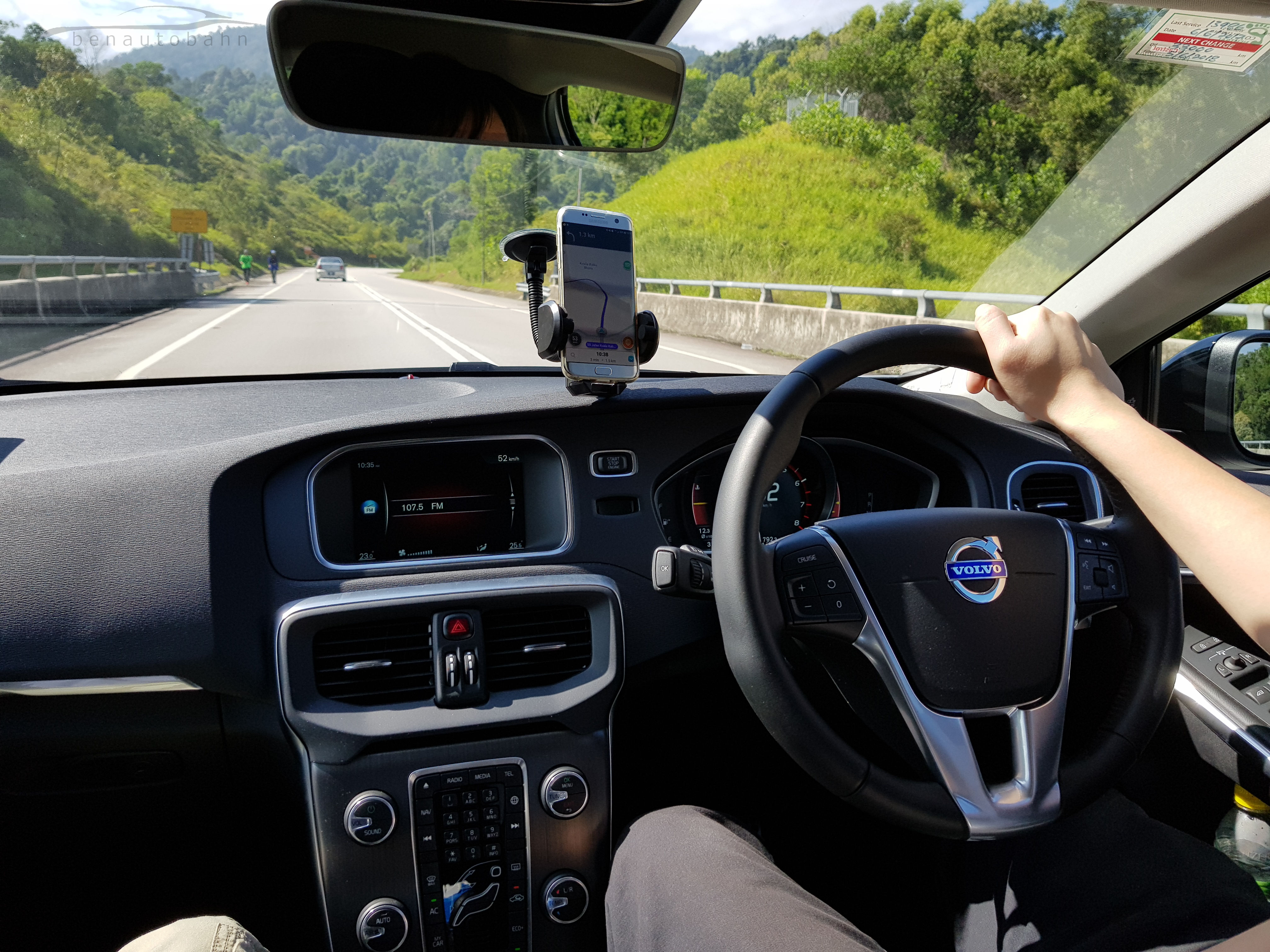 Sure, the infotainment system is a bit dated and not very user-friendly, but once you set the settings to your liking, you barely need to use it anymore besides switching radio stations. Contrasting the ageing infotainment system is the futuristic-looking full digital dials which most if not all of its rivals does not feature. You could also change the dials between Normal, Eco, and Sport theme to suit your driving mood. Overall, the V40 remains one of the nicest place to be in among its rivals.
Have a sit inside, key in hand, foot on the brake, press the start button bringing the turbocharged 4-cylinder to life, and the Polestar stainless steel exhaust instantly puts a smile on my face. Polestar managed to make Volvo's humble little 2.0 litre fill with character. Every time you start it up, there is a characterful but subtle burble inside the cabin, but those hearing from the outside will find it far from subtle. Especially coming from a Volvo.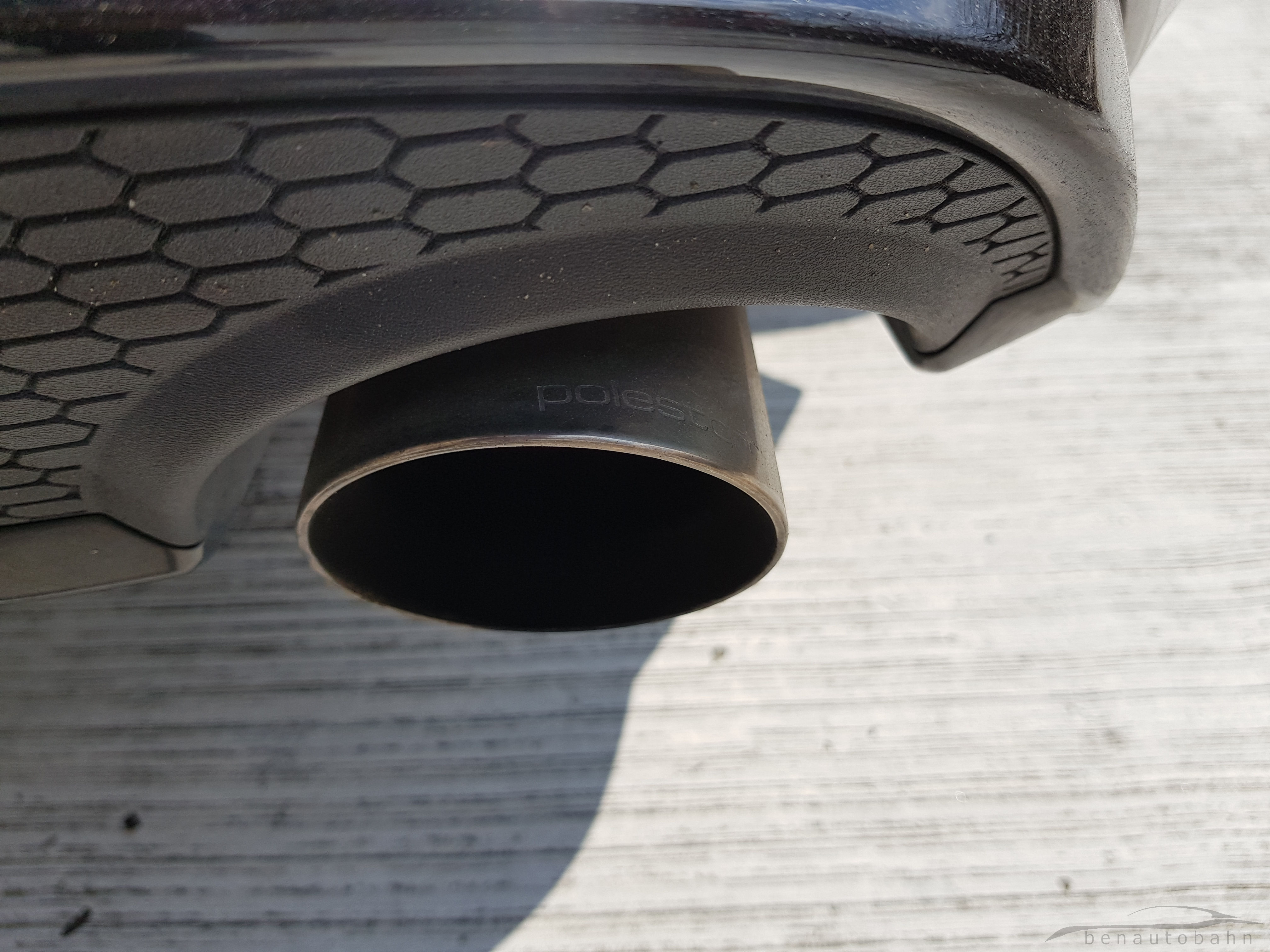 The car sounds even better on the move. And with 253hp and 400Nm on tap, the bark matches its bite. Overtaking is a breeze despite the slight delay in full power once you put your foot to the floor due to expected turbo lag. The 8-speed gearbox with steering-mounted paddles is not the quickest shifting in its class and could be frustrating when driven enthusiastically, but it's perfectly acceptable for your daily commute.
Speaking of enthusiastic driving, take the V40 Polestar for some sporty driving through your favourite winding roads and the car reveals its true self. One thing that stood out quickly was the steering wheel. Volvo is a tiny company when compared to the German giants, and could not afford to go through another homologation process just for a smaller, sportier steering wheel design. This means the large and comfort-oriented steering wheel used in the S60, is also used across the Volvo range including the tiny V40 hatchback.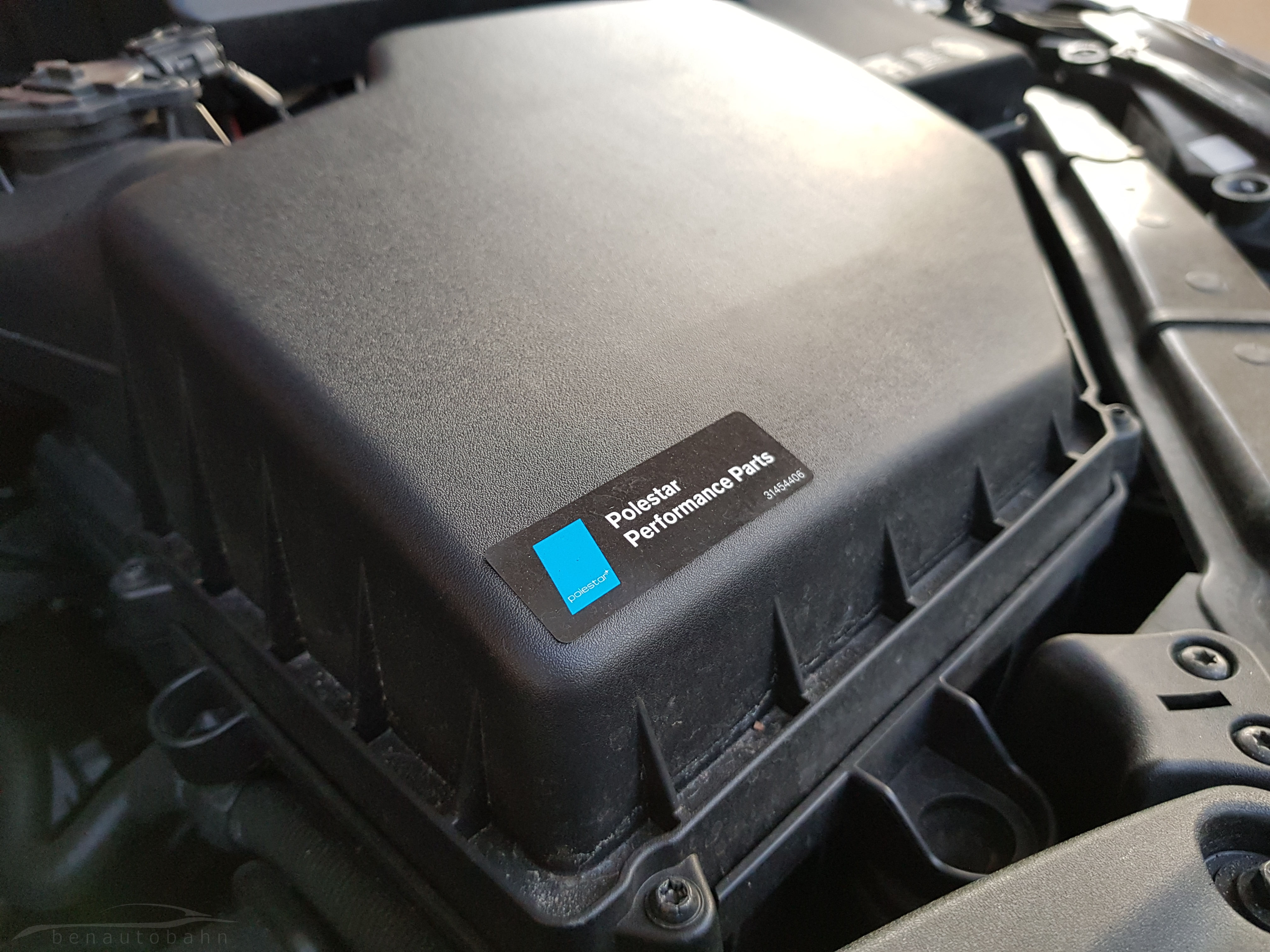 You would only notice the steering's large diameter once you do quite some cornering, and this is a sporty hatchback so one would do quite a lot of them. While a smaller, sportier steering would suit the V40 Polestar better, it still would not improve the steering feel of the car. While accurate, the steering doesn't provide much feedback despite being able to set between three different steering weights.
Handling wise, the combination of Polestar shocks, springs, 19-inch lightweight rims and Pirelli Pzero tires meant that grip is aplenty in the V40 Polestar. I suspect the tremendous grip is mostly due to the pricey Pirelli Pzero rubber usually reserved for supercars. While I could switch off the traction control through the infotainment screen, it still does not remain fully deactivated. Nevertheless, no matter how hard I tried, I still could not get those rubber to give up their grip or trigger the traction control light. There's simply no drama at every corner, giving you the confidence to hang on to the tires.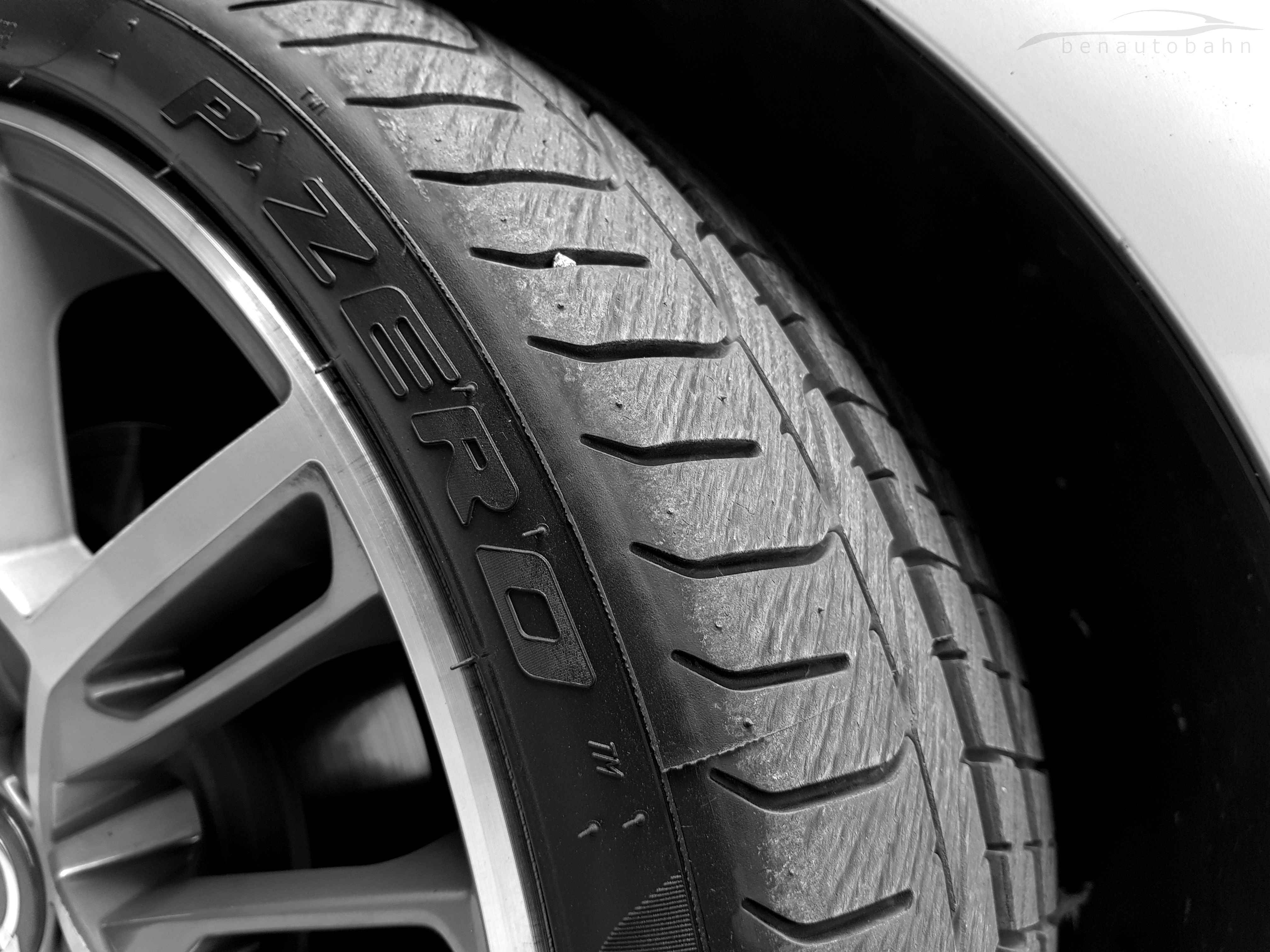 Another highlight of the Polestar optimisation upgrade is that extra 50Nm of torque. 400Nm of torque in a front-wheel-drive hatchback meant the V40 possesses the textbook definition of torque steer. Accelerate from a standstill and you will need to have both hands tight on the wheel unless you are not planning on going straight. Torque steer is usually regarded as a negative, but I would argue that in this case, it gives the V40 some sort of character and drama that its handling could not.
Those 19-inch Polestar rims are also a thing of beauty, and fills up the V40 wheel wells very nicely. While I gladly welcome the rims as a design upgrade, the ride that comes with it made me think twice about my priorities. Every imperfection on the road can be felt, and slowing down almost to a standstill before every road hump or pothole is a must, unless you would like to give your passengers and yourself a good wake-up-call.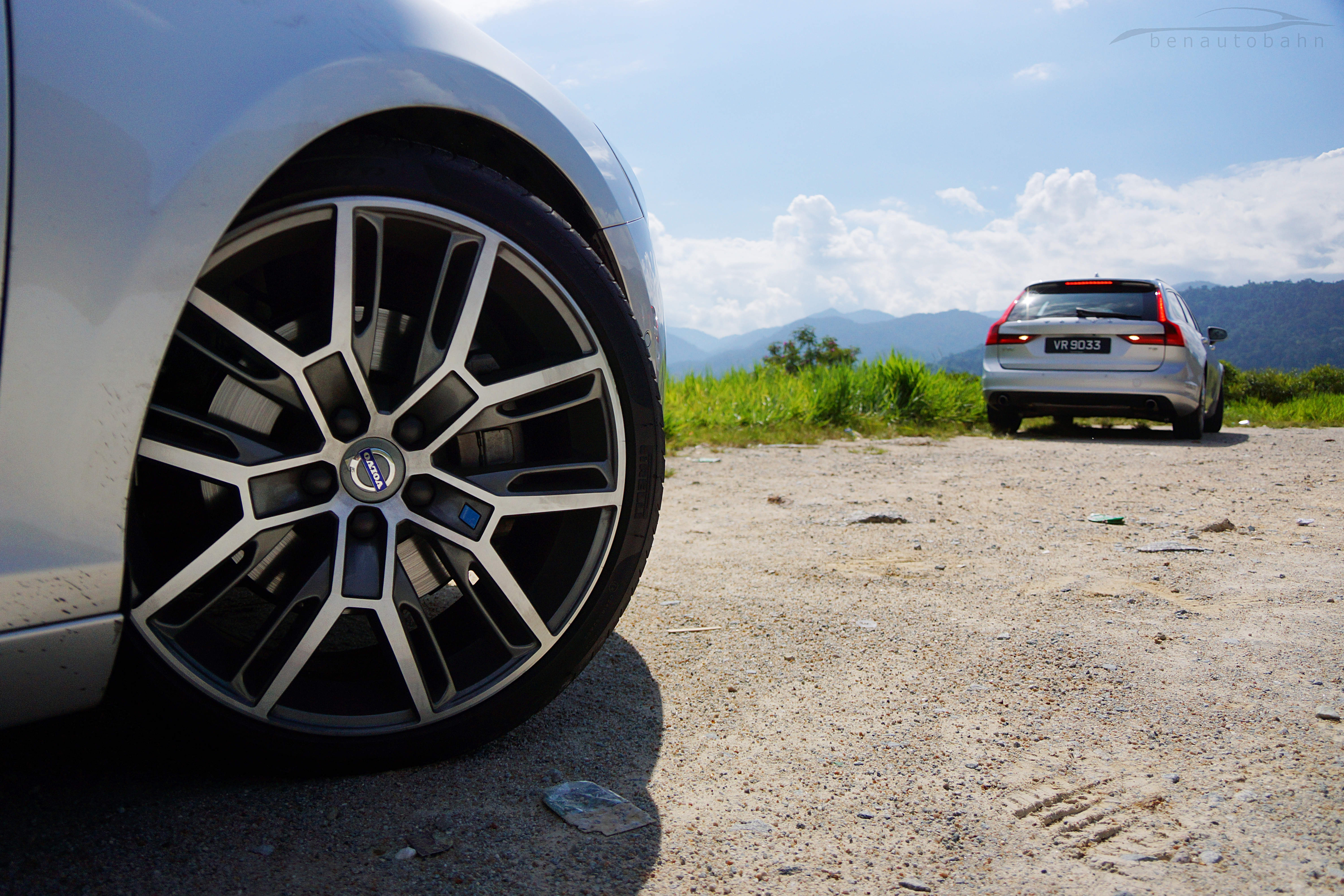 Those large rims also meant that you have to be extra careful not to kerb the rims on narrow roads or while parking. Risk of bursting one of those expensive tire when you hit a pothole at speed is also huge. These compromises essentially makes the V40 Polestar a slower car in the real world because the driver would need to slow down at almost any imperfections. So do think twice before plunging 21k for those set of admittedly gorgeous wheels.
Realistically speaking, hardly anyone would purchase the full 60k worth of upgrades. Based on my experience with the V40 Polestar however, the power upgrade is a no brainer. You may not be able to tell the horsepower difference, but the increase in torque and not to mention the slightly faster gearshifts and more sensitive throttle response compared to the standard V40 makes overtaking that much more urgent and demand in power that little bit more effortless.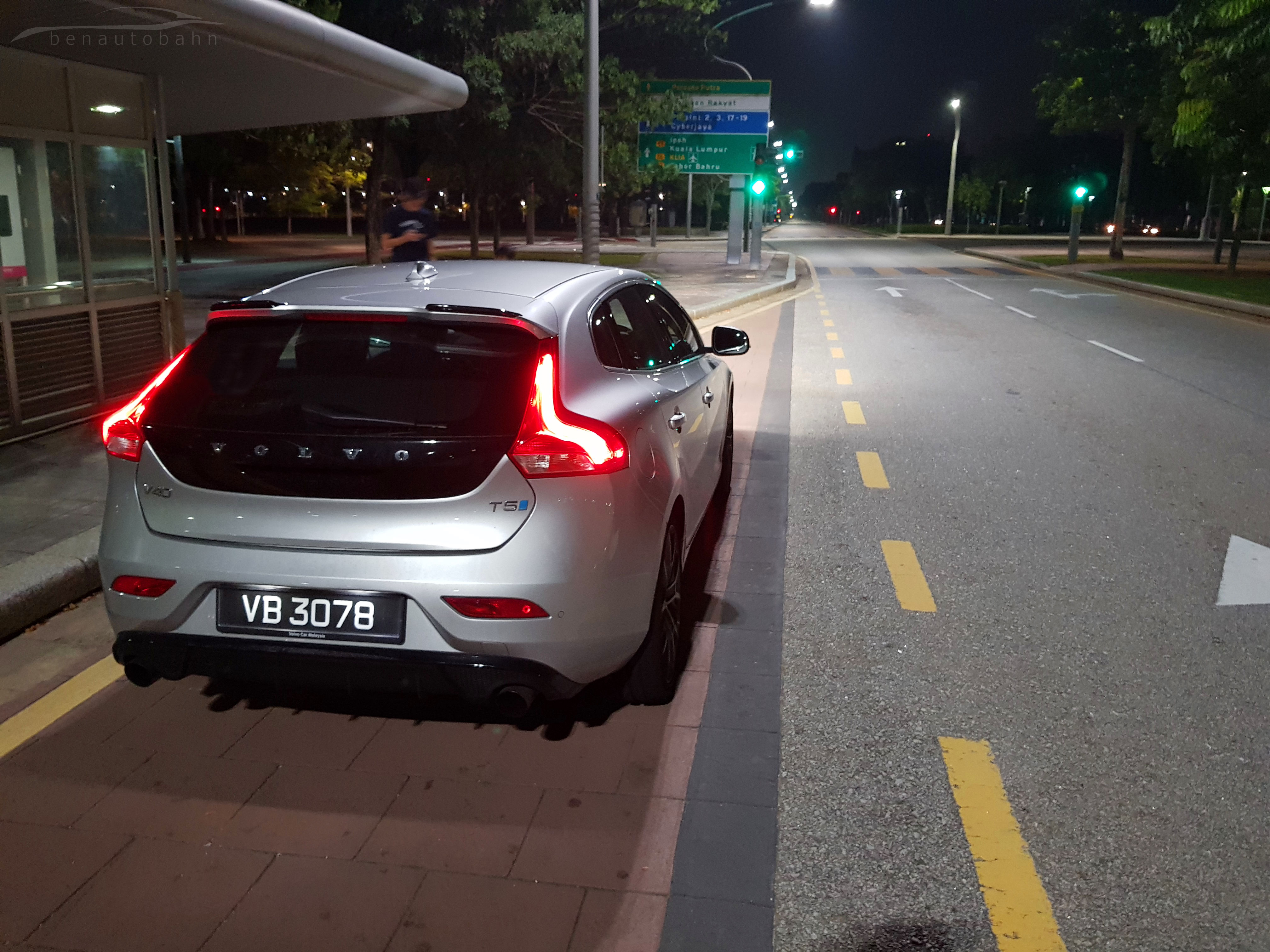 Another option I would tick are those Polestar stainless steel exhausts system. Sure, it may have negligible effect on performance but its the new sound profile that makes your daily commute that much more special. The characterful burble makes every startup a pleasure and matches the aggressive, torque-steery acceleration. Other 4-cylinder hot hatches I could think of that sounds just as great are perhaps the MINI John Cooper Works model range, but the Golf R also comes close.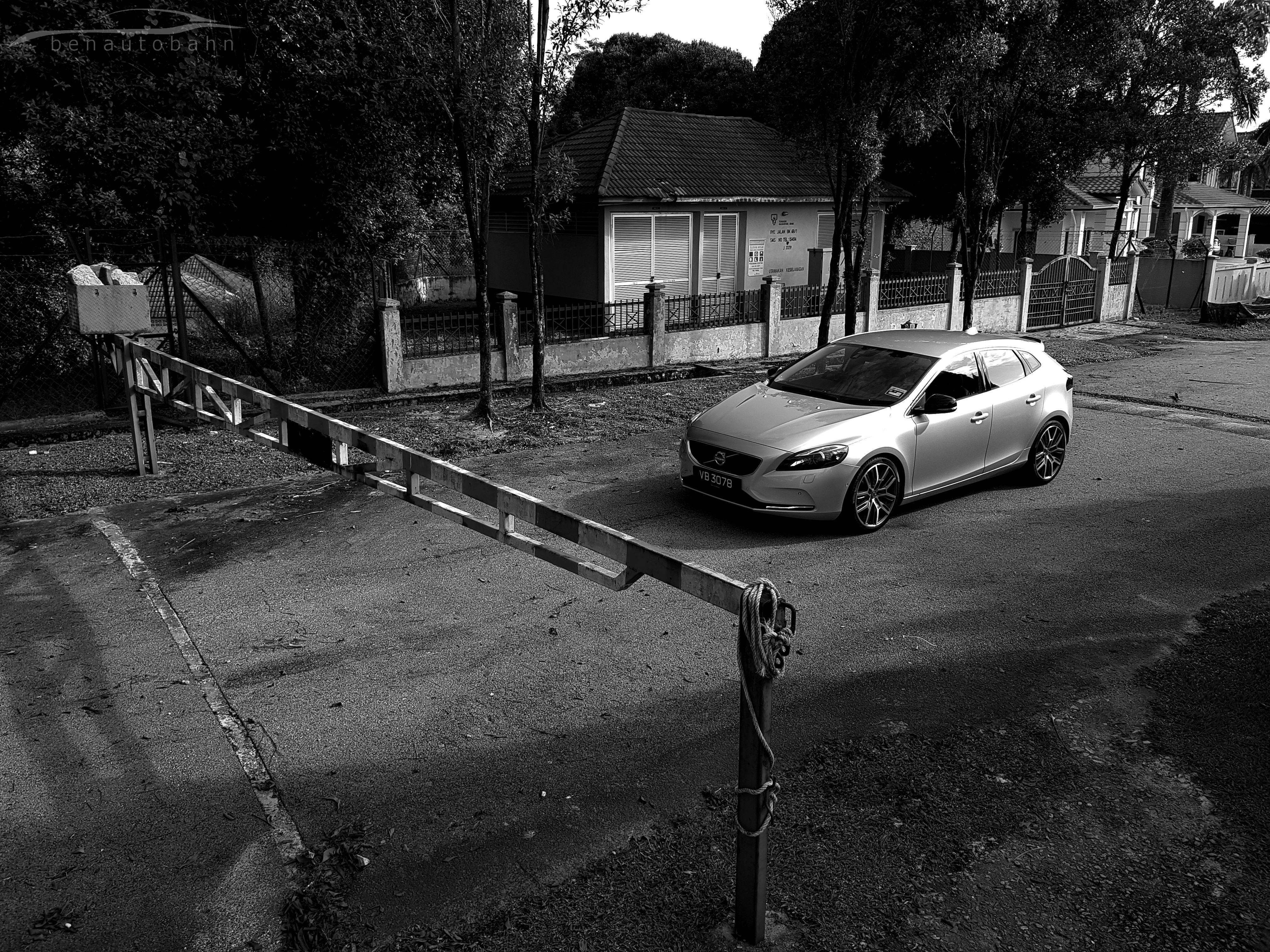 The rest to me are the less essential upgrades, the tiny spoilers are actually functional and does have an affect on the car's aerodynamics but then again, the gains in aero are also not ones that you could feel or notice on your everyday commute. I also could not tell you how much the Polestar shocks and coils upgrade affect the ride and handling on the standard 17-inch rims and rubber, but it's safe to assume it would ride a lot more better without the 19-inch rims.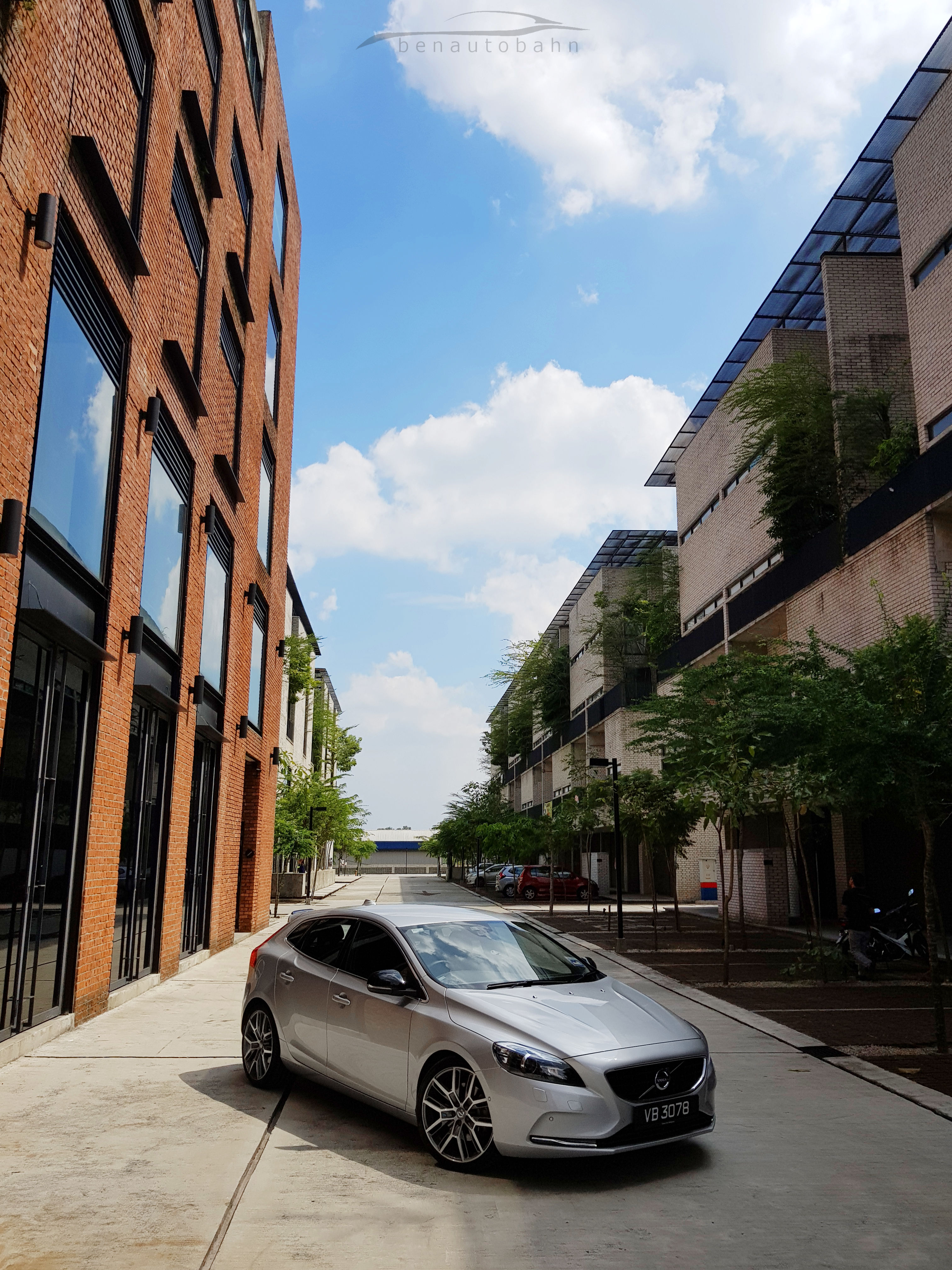 If I own a V40, the power optimisation and exhausts would be something I would happily upgrade to and recommend to other V40 owners. Those looking for a fun and involving hatchback may not look into a Volvo in the first place, but with these Polestar upgrades made available, Volvo is that one tiny step closer in the right direction to changing that mindset.
And now that Lotus is under Volvo's parent company Geely, the future of fun driving Volvos can only get brighter from now on.