Frankfurt 2015: Alfa Romeo Giulia first impressions!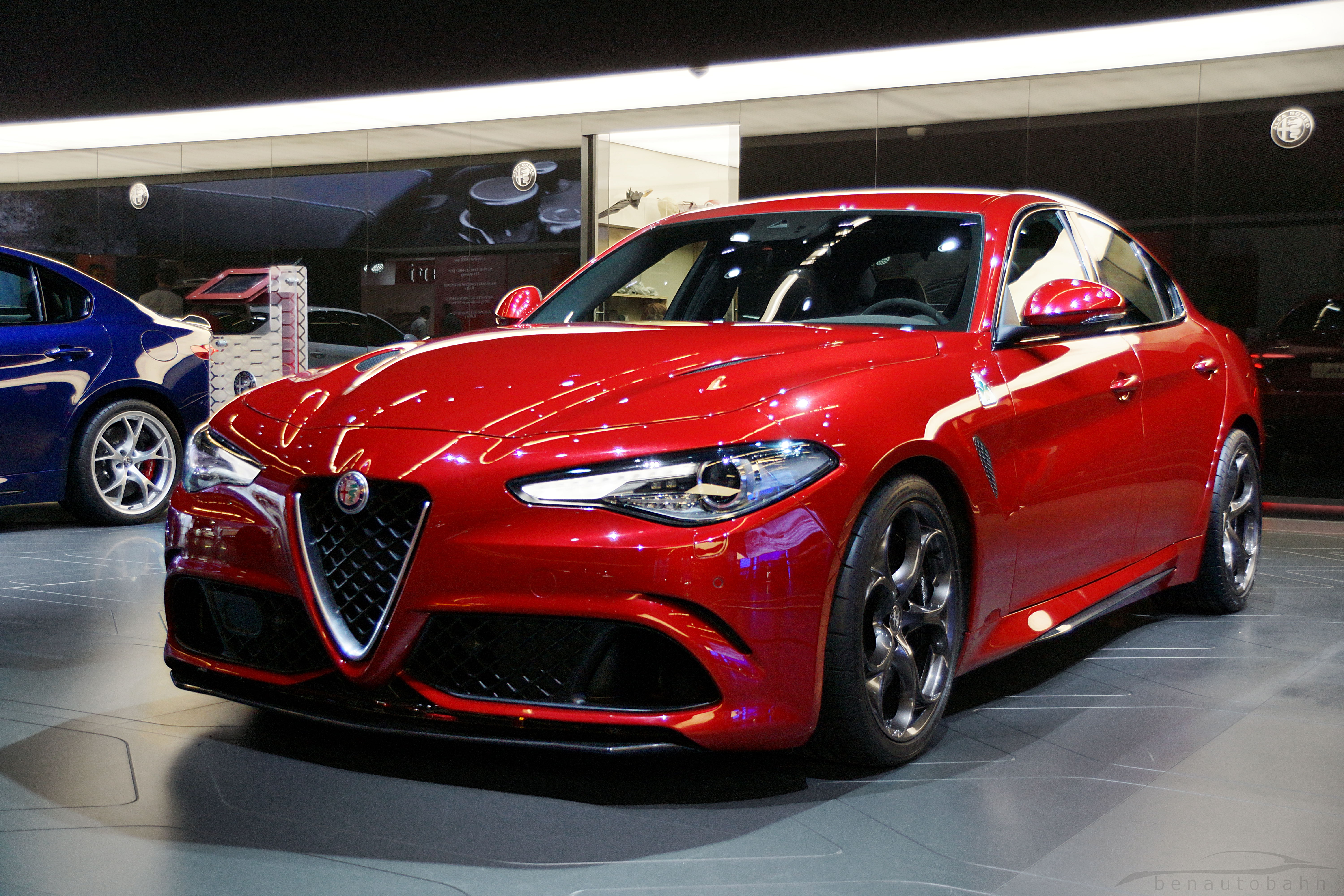 It may be a SUV galore at this year's Frankfurt show, but Alfa Romeo's revival of the Giulia name in the form of a D-segment sedan caught just as much attention from the automotive world. Alfa's ageing MiTo and Giulietta have long been eclipsed by impressive rivals and are in need of a significant update or replacement. While the appealing but compromised 4C sports car is not what you call an affordable ticket to Alfa ownership. And when production ended for the 159 in 2011, Alfa has been hard at work to come up with a replacement and the car you are looking at right now is the answer.
Sure, looks can be subjective but I'm positive that we can all agree that the 159 is still a looker today and one might struggle to believe that it was launched ten, yes ten years ago. Heck, with a bit of interior update and slightly tweaked engines, Alfa might still be able to get away with selling the 159 today. A good design sells, but a successful design is one that is timeless and age well. A perfect example is the modern Aston Martin Vantage which was also launched ten years ago like the 159, but unlike the 159, the Vantage is still in production and will be for a few more years. Cruising around in a 2005 Vantage gets you equally as much attention as cruising in a 2015 Vantage. But I digress.
Now back to the design of the Giulia. Alfa Romeo's design tend to give me a positive first impression, but I'm not so sure about the Giulia. The first thing that came to mind when I saw the front was the face of a bug or frog with a huge nose and the rear looks good on a KIA Optima but not an Alfa Romeo. Alfa's design should be unique and distinctive and both the MiTo and Giulietta stand out from their rivals, and I guess the Giulia still does but only because the D-segment has not been an exciting looking bunch.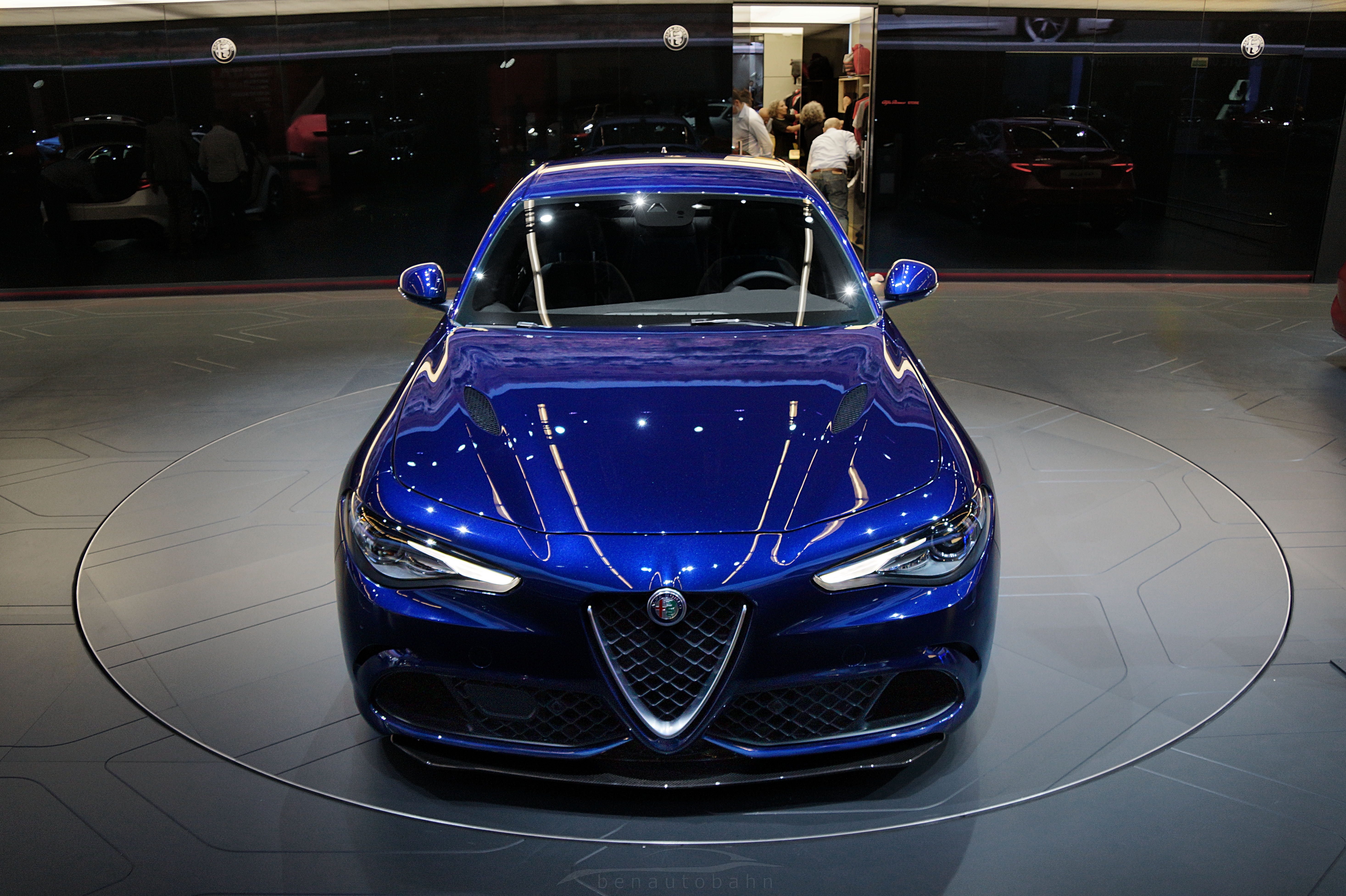 Don't get me wrong, the Giulia has its angles. The front three-quarter view and particularly the front top-down view are stunning, but I will need to see one outdoor under natural light should I want to look for more flattering angles of the Giulia. The variety of rims shown there were also great. For now though, the Giulia is not impressing me with its looks.
Let's step in then…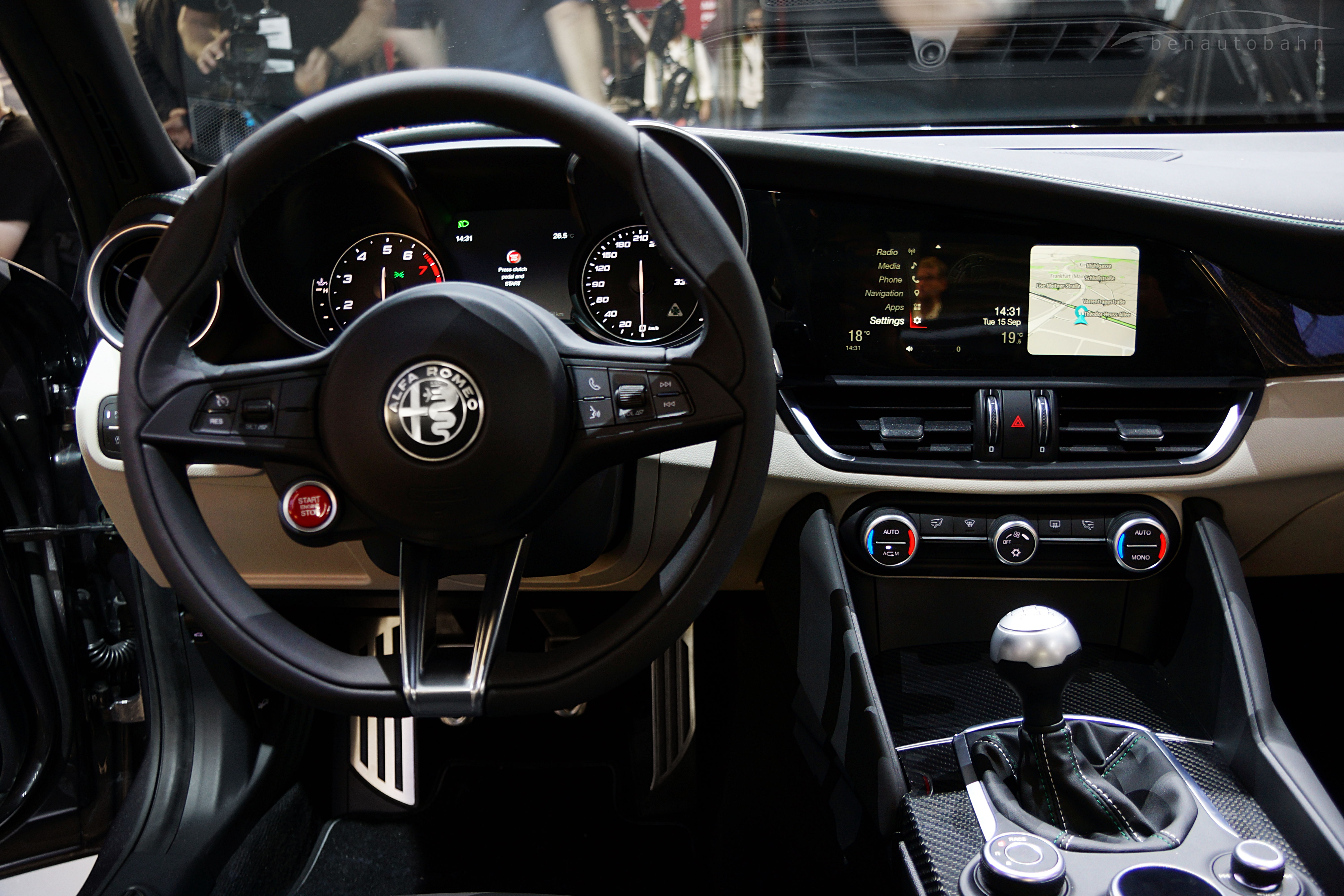 Hey the interior is not so bad! In fact, I actually like the interior. First thing that hit you is the body-hugging seat, with alcantara and relatively deep side bolsters which clearly hints at its performance motives. There's also an even sportier carbon bucket seats as an option (featured on the red Giulia). I should also mention that the Giulia we are looking at is the top-of-the-line Quadrifoglio (Cloverleaf) version powered by a Ferrari-developed, twin-turbo, 2.9 liter V6 with a whooping 500 horsepower. Another great news is that it comes with a manual transmission for the purist out there. Alfa chose to only reveal the flagship Giulia so far, which meant we could not compare it to a poverty-spec Giulia with a four-cylinder engine which might have a slightly different exterior and interior.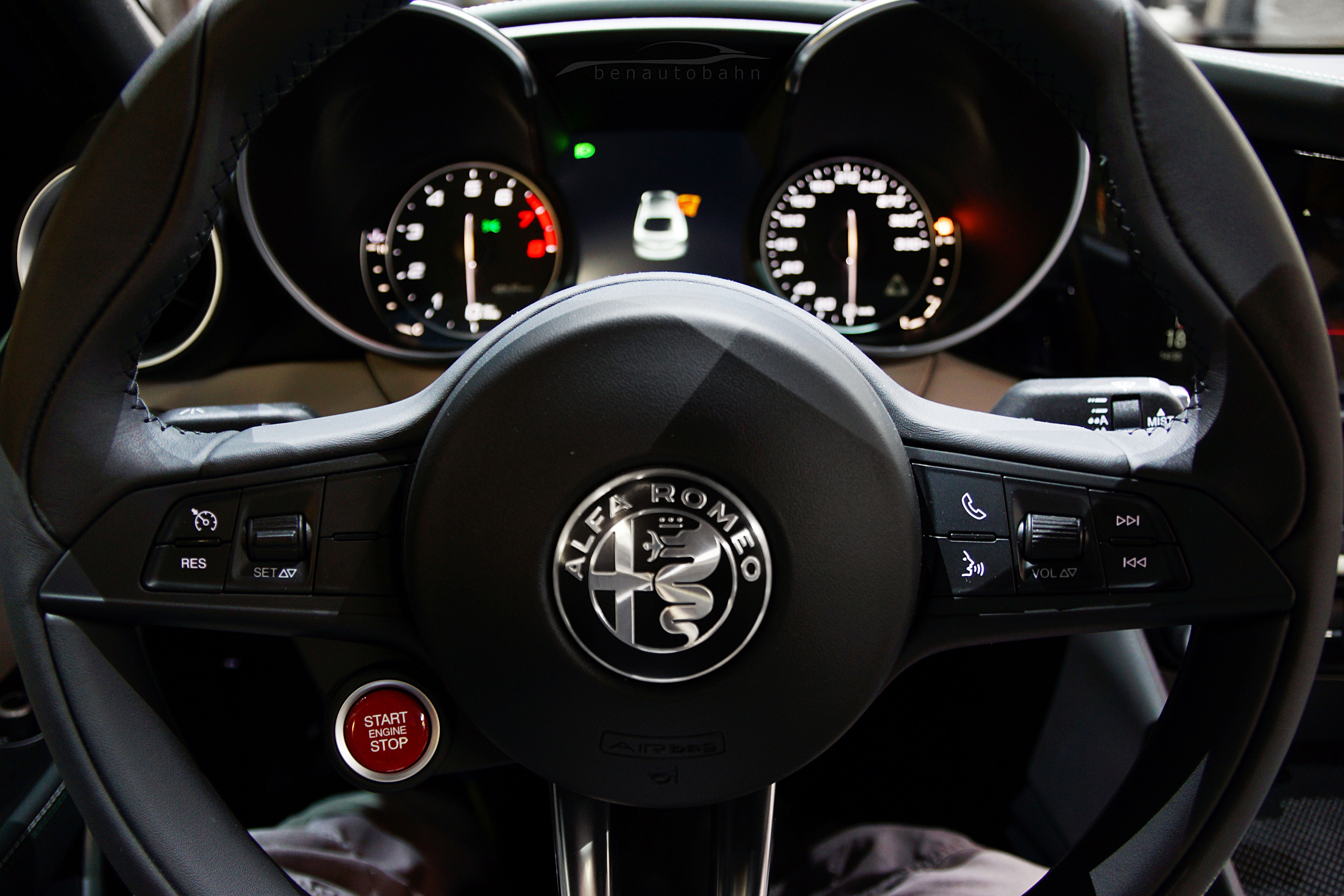 Being in the driver's seat is lovely, the metal covered pedals are stunning, the steering wheel looks great and just as nice to hold. The red engine start button on the steering is also a nice touch to give you a hint of Ferrari, while the rev counter with its large font size also reminds me of being inside an Italian stallion. The gear knob may not be made from aluminium like those from a Civic Type-R, but the lever is short and sporty. There's also Alfa's latest DNA wheel toggle to switch between different suspension settings including a "Race" mode.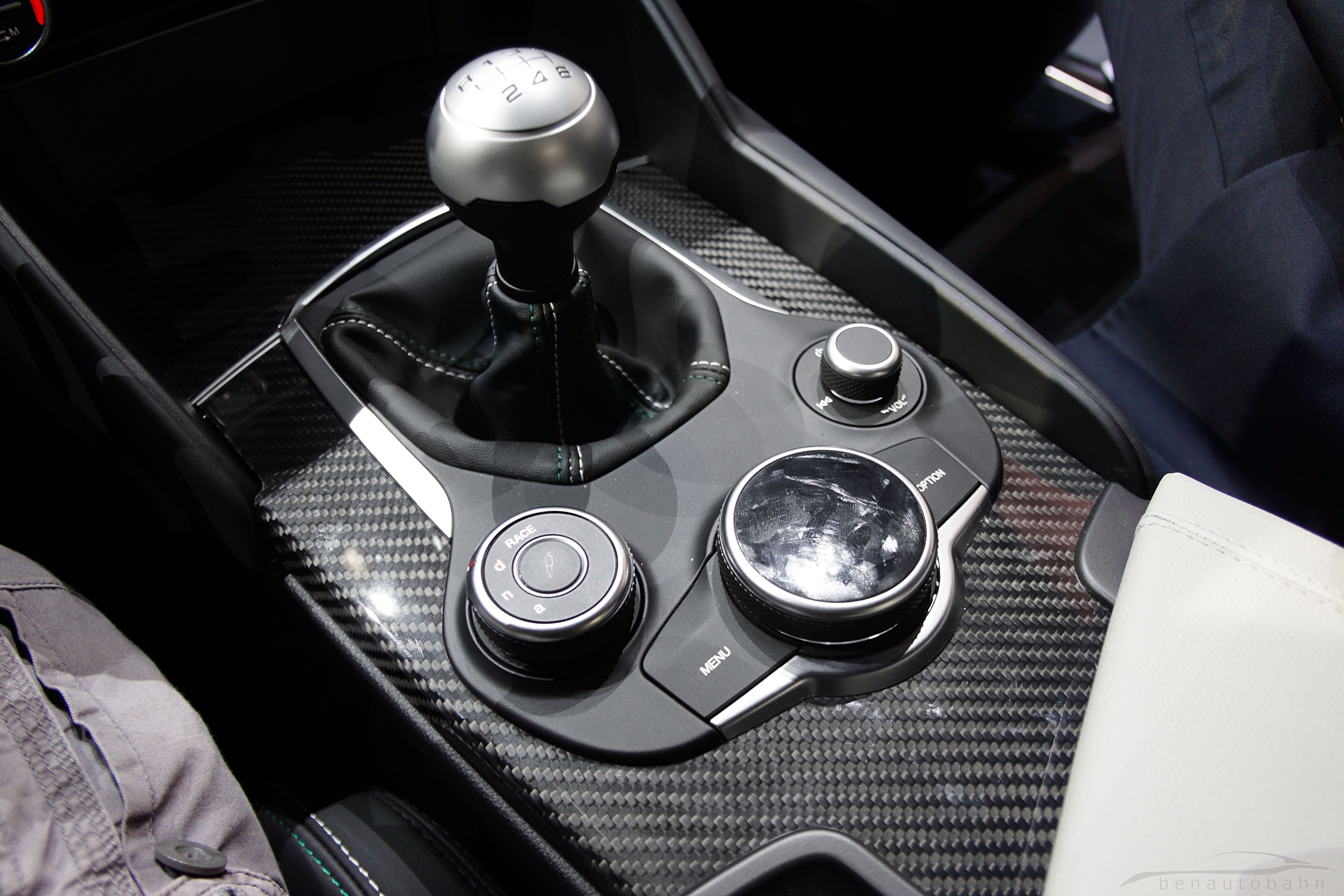 The Giulia also has a large infotainment screen controlled by an Audi-like wheel switch but with a gloss black finish which you can clearly see is a fingerprint magnet. Speaking of fingerprint magnets, the screen is also surrounded by a gloss black finish in an attempt to make the screen look bigger than it really is and to give it a seamless look to it. Was it successful? Yea sure in dim situations like in the photos you see here, but in daylight you can clearly see the borders of the screen and it looks cheap. At least it is not a touch screen, which will only welcome more fingerprints.
Alfa touches aside, the overall design of the dashboard and air-con vents are very Mazda-ish which in turn means it's very German. That's good news actually, it may not be a totally distinctive interior design like those you find in a Volvo or even the 159 (love the gauges in the centre), but at least it has an air of quality about it. Sure, there's cheap plastic if you look hard enough, but they are mostly covered in soft touch materials, stitched leather, and carbon fibre. Remember, this is the creme-de-la-creme of Giulia, who knows how much fancy stuff will be omitted for the lesser models.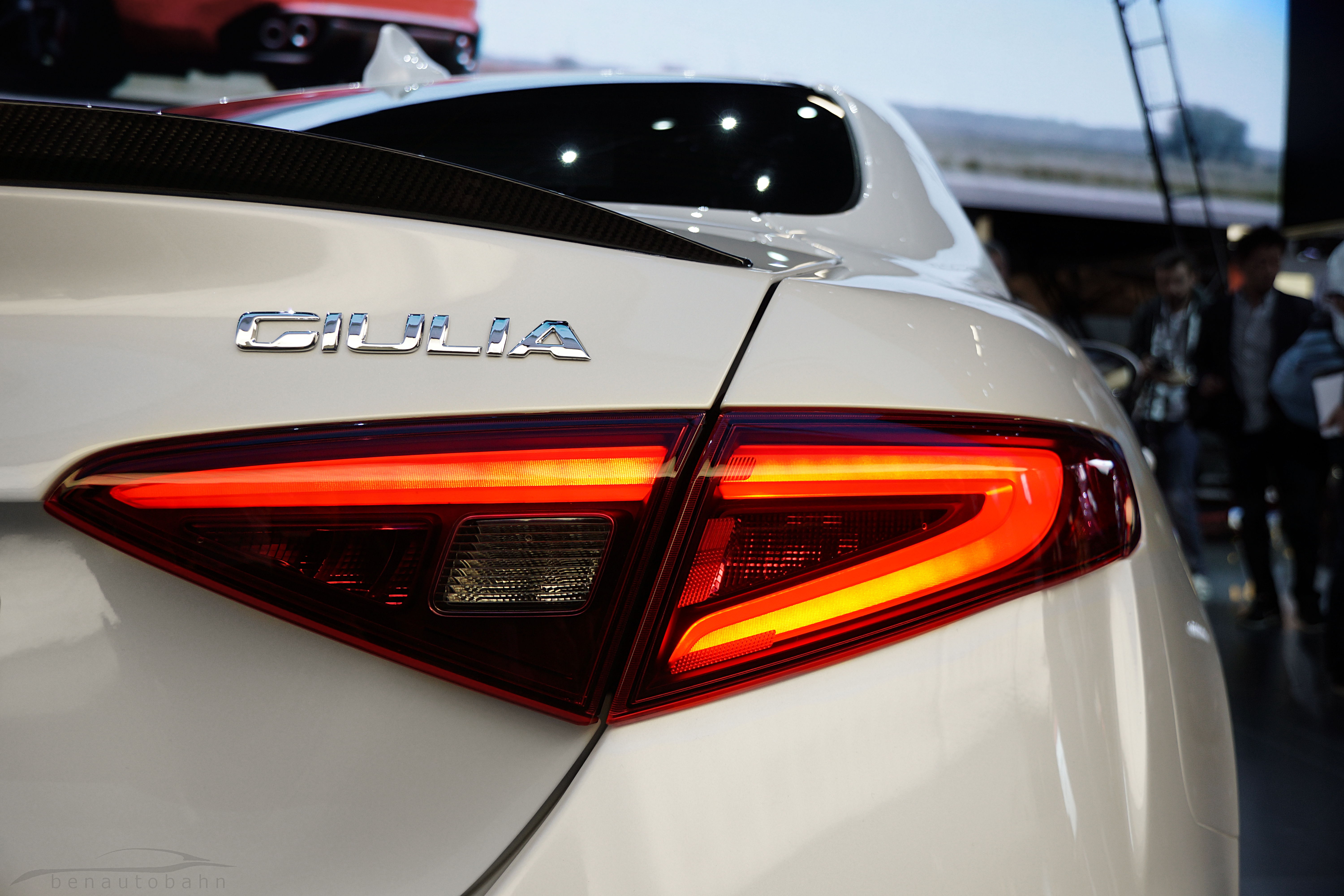 Being a rear-wheel-drive car, one cannot have high expectations of rear seat spaciousness, and the Giulia is definitely a squeeze for five adults with its high central transmission tunnel. At least there's rear air-con vents. Plus, I don't think an Alfa Giulia buyer is one who cares much about practicality or spaciousness. A wagon version should solve most of the problem, not to mention the added appeal of being a wagon. Sadly, there's no hint from Alfa of making a Giulia wagon at the moment.
During the brief moment I had with the Giulia, I was impressed but not blown away. More impressive are actually the claimed performance figures and Nürburgring lap time, which should mean that Alfa is doing something right in their formula of creating a performance sedan. There may be some inconsistent panel gaps, some questionable fit and finish here and there in the Giulias displayed at the Frankfurt show, but these are pre-production cars and I will hold my judgement until I get up close to a production-spec unit in the future. However, hearing the news that the Giulia and future Alfa models being delayed once again, it will be quite a while before that day will come.
Don't screw this up Marchionne!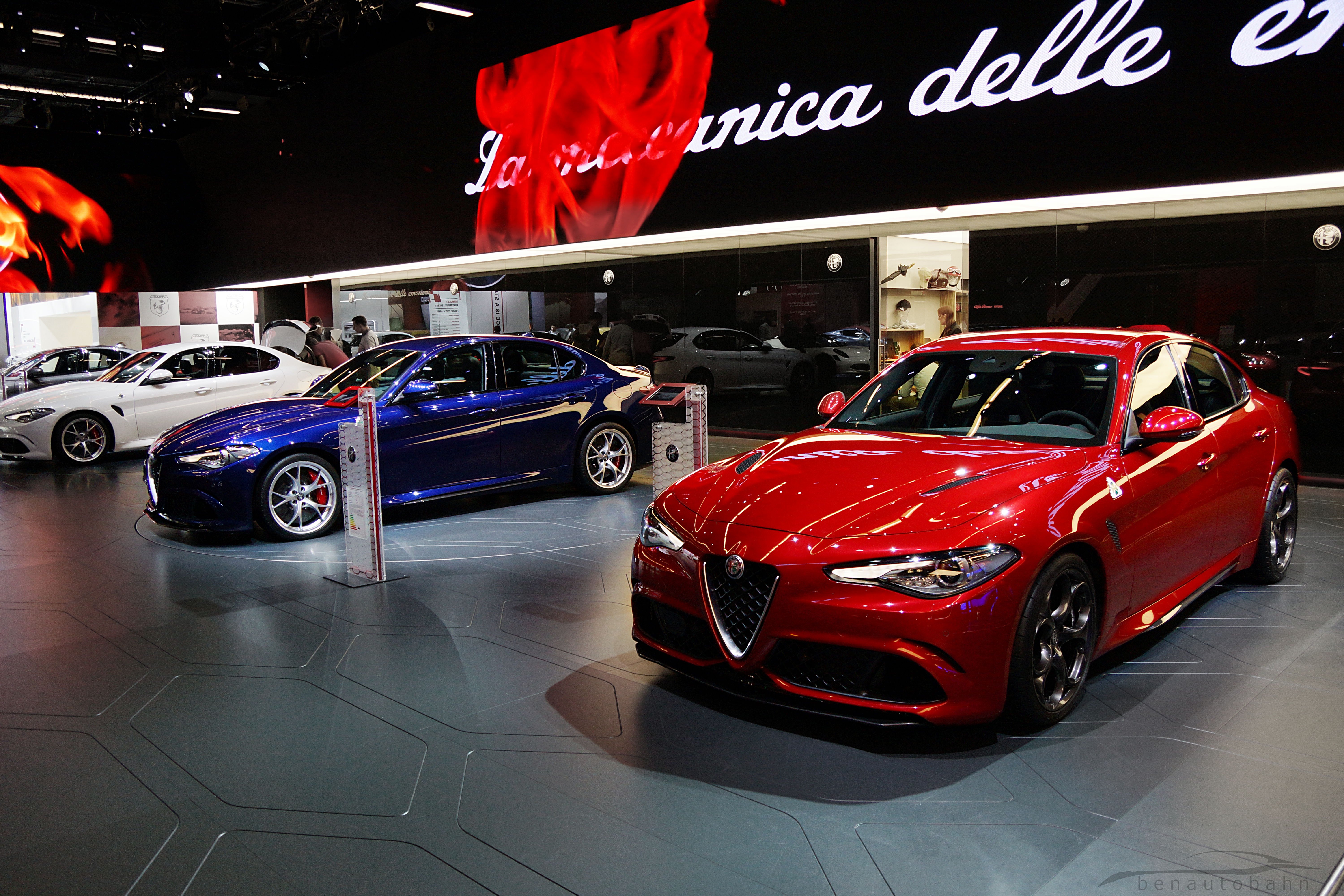 I waited until the closing of the show to achieve these photos with little to no people around, so see for yourself if my patience has paid off in the gallery below!