Frankfurt 2015: Bentley Bentayga first impressions!
The Frankfurt Motor Show, or IAA (Internationale Automobil-Ausstellung) in German is not only the world's largest motor show, but also one of the most important ones. This year was no exception, with many car manufacturers choosing this year's Frankfurt show to debut their latest model in a whole new segment they have not yet explored before. The SUV segment.
There's Jaguar's very first SUV, the F-Pace, the revival of Borgward after over 40 years in the form of a SUV, and this, the Bentayga. We all knew a Bentley SUV was coming with the Bentley EXP 9 F concept revealed at the Geneva show in 2012, so the Bentayga's existence was no huge surprise. Even without the concept car, we would have also predicted a future SUV coming from a car company which specialise in powerful, heavy, luxury coupes and limousines.
First impressions are not so good, yes it's a Bentley but the signature look of a modern Bentley just simply doesn't translate well into a SUV body. It could be because Bentley disappointingly chose to borrow the front of the Continental GT and not stay true to the unique EXP 9 F concept it was initially previewed as.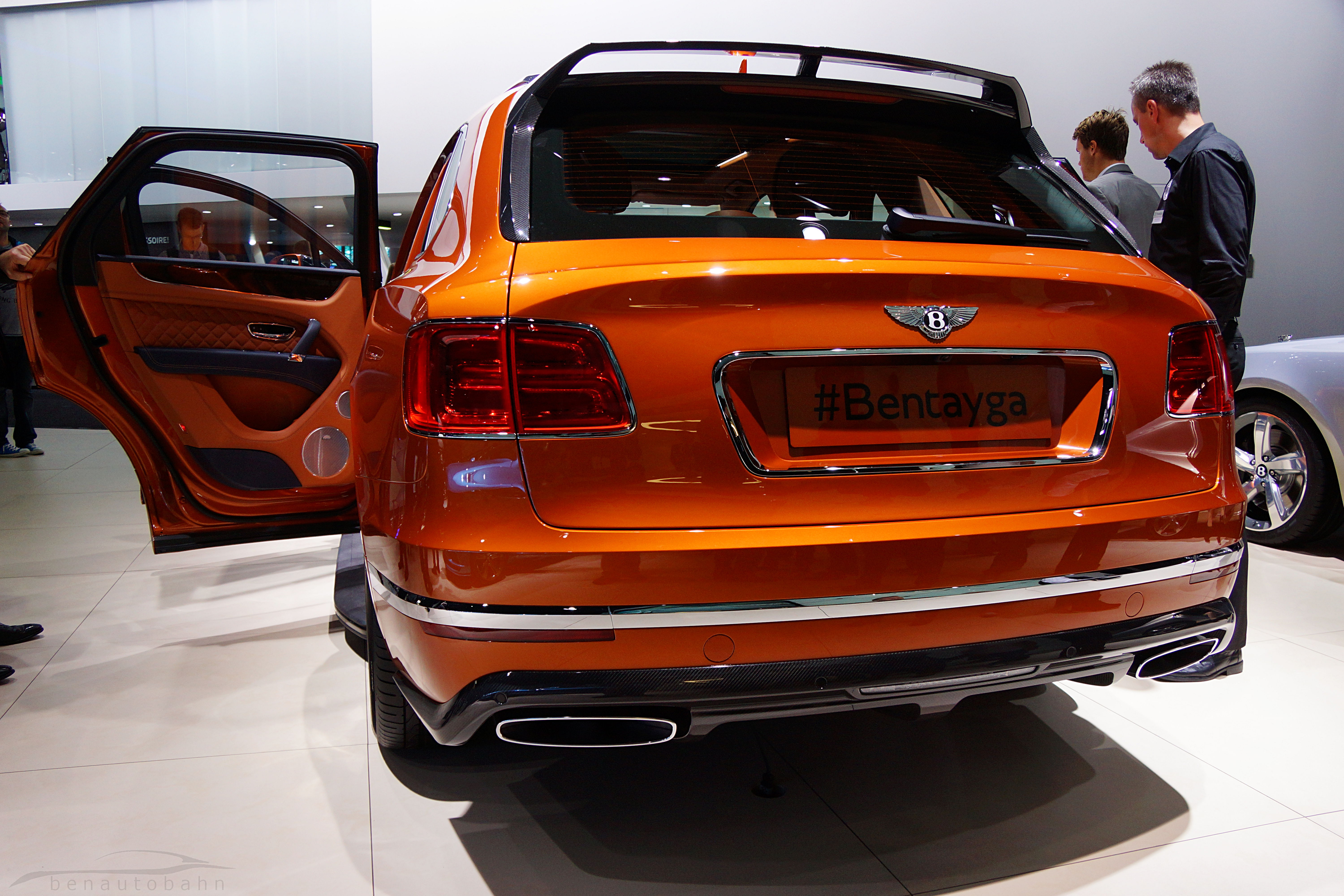 The rear is no better, even though the general shape stayed true to the concept car, it was not an attractive rear to begin with. Again, since the Bentayga is based on the new Audi Q7 platform, the side profile and rear still resembles the Q7, and there might be only so much Bentley could do to change that. I was hoping for something more dramatic and unique, but in the end, the Bentayga just looks like a jacked-up, four-door Continental GT. Don't even get me started on the name. Yes it has "Ben" in it but that's not the point.
Being based on the latest Q7, means it should be relatively light though. However, the heaviest Q7 with the full 7-seat option weighs in at around 2135kg, but the Bentayga weighs around 2422kg. Yes, that is over 200kg heavier but to be fair, the Bentayga has a massive twin-turbocharged W12 engine and a farm worth of cow hides in the interior. To put things into perspective, a top-of-the-line Range Rover with a 5.0 liter superchaged V8 weighs around 40kg more and the LWB version weighs a 100kg more than the Bentayga.
Now the Bentayga with a massive twin-turbo W12 don't seem so heavy after all. And having 600hp and a top speed of 301km/h (a whooping 1km/h higher than the Cayenne Turbo S *gasp*) means it can claim to be the fastest SUV in the world. Porsche Cayenne Turbo S owners worldwide just lost their bragging rights.
Bentley also claims that the Bentayga remains just as capable as an off-road weapon. Judging from online videos of the Bentayga pre-production test vehicles driving up steep and bumpy hills with ease, I do not doubt them at all. In fact, the Bentayga would not be out of place next to Range Rover during off-road driving. These companies clearly knows that 99% of their customers won't take their shiny SUV off-road but finds the fact that they could very appealing. The very sense of security can be a great selling point as Land Rover has proved. Probably one of the reason why rich people are still buying the prehistoric and overpriced G-Wagen that not only looks and built like a tank, but also drives like one (not a compliment).
Back to the Bentayga. The exterior may split opinions, but step inside and everyone will be happy to spend days in it. It is a Bentley after all, and this is what they do best. Every plastic buttons and switches are covered with a metal shell and every surface are wrapped in leather or wood. Materials are top-notch but fit and finish in certain areas could be better. However, overall it is one of the best SUV interiors out there. Just don't spec it in this particular orange with matching orange interior.
The one thing owners' hands will be in contact all the time (hopefully), the steering wheel is a work of art on its own. The rear seats are similar to those at the front which means it's very supportive. Not as supple as the S-Class which hugs you in a soft cocoon but the seats are firm and comfortable. Despite being electronically adjustable, the rear seats are also very limited in terms of recline, so get a limousine if that matters more. This is still a SUV which can go off-road whilst carrying luggage.
Speaking of luggage space, it is more than adequate. As you see from the photos, it can carry a week worth of luggage for a family of four. And being a Bentley, the optional extras are endless and pricey.
The orange unit you see here features carbon fiber exterior parts such as front splitter, front intakes surround, rear diffuser and spoiler. Sure, these may aid a tiny amount in aerodynamics but they look out of place for a luxurious SUV, especially that spoiler which looks a bit boy-racer in my opinion. If you were to buy one, stick with the original look.
At the end of the day it does not matter what we think of the Bentayga, because it will still sell like hot cakes in countries like China, Middle East and the US. And you can't really blame them. Controversial design aside, the Bentayga is a very fast, very capable, and very luxurious SUV with all the status and image that comes with the Bentley badge that no Range Rover Autobiography or Mercedes G65 could even come close to matching.
It's no surprise then, that even me myself would happily own one should I have the money. Let passer-bys tease and insult all they want about the Bentayga's exterior, while I swoosh past these mere mortals on the autobahn at 301km/h and take the dirt road on my way back home in extreme comfort.
Rolls-Royce, your move.